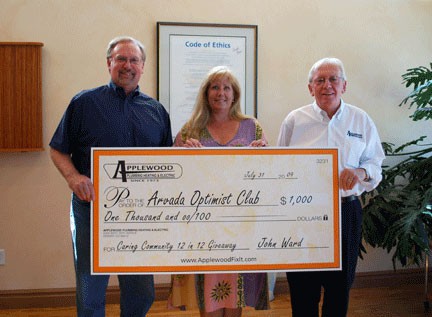 Part of the Optimist Creed reads, "To look at the sunny side of everything and make your optimism come true." That attitude has paid off for the members of the Arvada Optimist Club, the July winner of Applewood Plumbing Heating & Electric's "Caring Community 12 in 12 Giveaway."
The giveaway, which includes $1,000 to help with the winning group's programs, is Applewood's eighth award this year and will benefit students in Arvada-area schools.
"The work of the Arvada Optimist Club greatly benefits students in that community," said Applewood Owner John Ward. "They are helping to cultivate our society's next generation."
The club's mission, which is to bring out the best in kids by providing hope and positive vision, is accomplished in part through its Angel Fund. The Angel Fund, which was started last year, provides money to students with one-time needs at Arvada and Pomona High Schools and Arvada and North Arvada Middle Schools. Specific examples of such need include school lab fees, advanced placement testing costs, school supplies and educational trips.
For Chuck Runge, an employee of Pomona High School, the Arvada Optimist Club is his passion.
"I get two things out of it," said Runge. "The camaraderie of being with other civic-minded individuals in a club and I like that our focus is on Arvada-area young people at all school levels."
Runge, president of the club's endowed scholarship board, came up with the idea for the Angel Fund. He was also the club's only member to submit a nomination for the giveaway, an award for which many organizations submit dozens of nominations.
"I had seen the ads in the local papers a couple of times saying who had won the $1,000 in past months," commented Runge. "I had always thought to myself, 'I should make an application for that.'"
Aside from the Angel Fund, the Arvada Optimists contribute to their community through scholarships to college-bound high school graduates, the "Read to Me" program in local elementary schools, a Junior Optimist Club at Arvada Middle School and food bank contributions.
Applewood Plumbing Heating & Electric has served the Denver/Boulder Metro area for more than 37 years. The company has consistently been rated one of the nation's top 10 service companies by its customers. They are honored to have achieved the Nexstar Network Select Service Designation, to have been named 2007 City of Golden Rotary Ethics in Business Award winner and also named a finalist in the 2008 Better Business Bureau Torch Award for Marketplace Trust.