Applewood Giveaway Helps 'There With Care' Fill Necessary Voids for Families with Critically Ill
November 6, 2009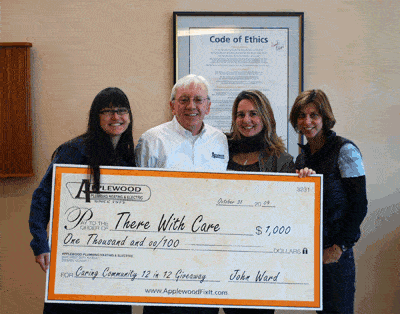 While advances in medical science have improved chances of surviving a critical illness, the fact remains that 75 percent of healthy iniduals over age 40 will become critically ill at some point. Approximately 5000 children die each year as a result of life-limiting chronic disorders and an estimated 31 percent of children are affected by chronic conditions.
To ease some of the strain during these difficult times, There With Care is ready to help. As Applewood Plumbing Heating & Electric's (www.ApplewoodFixIt.com) "Caring Community Giveaway" winner, the local nonprofit will be able to help where it is needed most – and that doesn't always mean offsetting hospital bills. In this case, the $1,000 award will be used to provide prepared frozen meals and diapers to families in crisis. "This money could purchase 10,000 diapers," said Dana Bacardi, Development director for There With Care.
"It is encouraging to find local organizations willing to help with the small things that end up having a huge impact on a family," said John Ward. "As a company that is family-oriented, these kinds of efforts really hit home."
Half of all bankruptcies are due to critical illnesses. And, nearly two-thirds of cancer-related costs are not medical, according to the American Cancer Society. With 250 volunteers serving more than 400 families, There With Care acts as a conduit to connect businesses with families and friends who need help. There With Care's mission is to provide a range of practical services for children and families facing critical illness in order to ease the burden of life's day-to-day obligations during a medical crisis. "As a person who has dealt with a sick family member, I know firsthand the kinds of gaps there are and the frustration of caring people who want to help but don't know how to," said Paula DePre Pesmen, executive director of There With Care.
After her husband survived cancer, Pesmen gave up a thriving career as a movie producer and started There With Care to fill those voids. "We have purchased 200,000 pounds of groceries over the last four years," she said. "Most of that is frozen prepared meals we provide to families."
In Pesmen's words, the organization "just does what your family or friends might do for you." This includes transportation to treatments, fixing cars, mowing lawns, babysitting, cleaning house, mentoring and tutoring students, or "just being a baby holder while a mom gets her chemotherapy," Pesmen said. "We take what's heavy off the family's plate and give them time to focus on their child or themselves."
Applewood Plumbing Heating & Electric has served the Denver/Boulder Metro area for more than 37 years and is proud to have been named the 2009 winner of the Better Business Bureau's Torch Award for Marketplace Trust in the Large Business category. The company was also recently rated eighth in the nation's top 10 service companies by its customers. They are honored to have achieved the Nexstar Network Select Service Designation and to have been named 2007 City of Golden Rotary Ethics in Business Award winner.