Applewood Giveaway Is Music to the Ears
September 6, 2010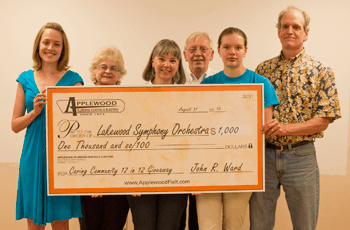 With the mass of satellite radio stations and ever changing musical arena, classical music has remained a mainstay, especially in part, to local symphony orchestras. The classical notes of famous composers will continue through the Applewood Plumbing Heating & Electrical "Caring Community Giveaway." (www.ApplewoodFixIt.com) The Lakewood Symphony Orchestra (LSO) is the $1,000 August winner.
In Colorado, just over 10 percent of the adult population regularly attends classical music events, according to the National Endowment for the Arts. Local symphonies provide a venue for local musicians to master their trade and feed their musical talents and passion. The LSO has 50 musicians, who annually must audition for the orchestra.
The $1,000 will help fund the annual Children's and Family concert, a yearly sell-out crowd pleaser, which draws children, parents and grandparents from the surrounding community. This year, the program will be centered on the book Ansel and the Great Tree. Illustrations will be projected to complement the musical arrangements of Maestro Matthew Switzer.
"Encouraging our community to experience the many different facets of our culture, including great musical works, is a real treat," said John Ward, president of Applewood. "We're glad to recognize the varied contributions available in our community. You don't have to go far to find amazing talent right in your own backyard. The Lakewood Symphony proves that."
The LSO was founded in 1977 and will perform seven concerts this season. For the entire LSO concert schedule, visit www.lakewoodsymphony.org. Especially entertaining is the Annual Pops Concert and Silent Auction. The evening is filled with dance tunes, coupled with an auction to benefit the orchestra.
"It's a wonderful evening where families can come together and enjoy a concert without going downtown," said Mary Anne Fleet, executive director of the LSO. "We have a high quality orchestra right here in our own community."
For more information or to nominate a local nonprofit for the "Caring Community Giveaway," call 720-249-5145 or go to www.ApplewoodFixIt.com.