Applewood Gives the Colorado Sickle Cell Association a Fighting Chance
June 6, 2007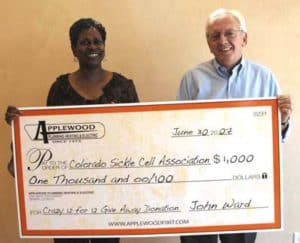 One in every 400 African-Americans is affected by the inherited disease, sickle cell anemia. In Colorado alone, there are 300 patients diagnosed with sickle cell with an additional 10 to 20 more being born each year. Carriers of the disease in Colorado range for 350 to 400. With support from Applewood Plumbing, Heating & Electric's "Crazy 12 for 12" Giveaway, awareness about sickle cell anemia will be extended into the community.
Owner John Ward presented the June Giveaway winner and president of the Colorado Sickle Cell Association, Donna Dixon, with a check of $1,000 on July 27. Donna claims that, "the award money will be put towards the construction of a website." With the World Wide Web being the main source for information today, "Applewood's Giveaway award will help fund the way to raising more awareness about this incurable disease," she said.
"Giving back to the community is what this Giveaway is all about," said John Ward. "It is a real opportunity to help organizations with needed programs, resources and educational opportunities."
The Colorado Sickle Cell Association is a member of the Sickle Cell Disease Association of America (SCDAA) and is client-oriented. They provide medication, transportation and support for clients' needs. The staff at the Colorado Sickle Cell Association is made up of volunteers that cater to patients and their families through care giving and education.
A mentoring program called the Buddie Program is in the beginning stages to help build support. Patients diagnosed with sickle cell are partnered with medical students who mentor and care for them. "The timing is perfect that we are the June winner of the Applewood Giveaway," Donna Dixon said. "This is a great big boost for us, I'm excited."
Sickle Cell anemia is a genetic disorder that affects 70,000 Americans, 95 percent are African-American. The genetic condition affects the hemoglobin molecules in the blood. People with sickle cell have an abnormal type of hemoglobin, which causes the red blood cells to become hard, sticky and crescent shaped. This odd shape causes the small vessels to jam up and prevent the flow of blood and oxygen.
There is no cure for sickle cell disease and the outcome can be fatal if not properly treated and maintained, making knowledge and awareness about the disease vital within the community. Dixon and the Colorado Sickle Cell Association will be able to further their efforts to promote awareness and foster the support needed to overcome the disease with the $1,000 from Applewood Plumbing, Heating & Electric.