Applewood Helps Fund Development for Colorado's First Autistic Care Facility for Adults
October 6, 2007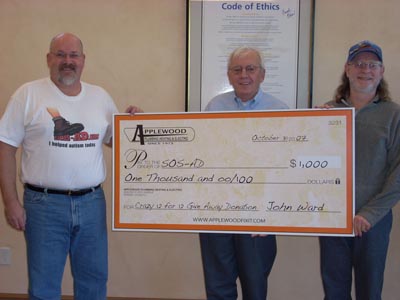 Autism is the fastest growing developmental disability in the country, occurring in about one out of 150 births, according to the Autism Society of America. Despite this statistic, Colorado ranks 48th in the United States in its support of autism.
As part of its "Crazy 12 for 12 Giveaway," Applewood Plumbing Heating & Electric (www.applewoodfixit.com) is donating $1,000 to the development of "Hawkeye Ranch for Autism," which will be the first ever autistic care facility for adults in Colorado.
"In a time when it's easy to get caught up in business and politics, it's important to remember people in need in Colorado and help them out when we can," said John Ward, the owner of Applewood. "By participating in local events that support local non-profits, we maintain a strong community presence."
Brain Hall and Gregg Whelen, co-founders of the Colorado Springs non-profit Stomp Out the Silence of Autism and Disabilities (SOS-AD), have been planning the development, which will open early next year. They received the check from Ward at a special presentation on Wednesday, November 28, 2008.
"We're bringing in doctors, behavioral specialists and chefs to not only provide special services for adults that have autism, but also to teach them life skills like how to cook and how to take care of themselves," said Hall.
The development, already in the making, is located on a 40-acre area in Larkspur. The building itself is 7,500 square feet. Applewood's donation will go towards the creation of wheelchair ramps and handicap accessibility.
Applewood Plumbing Heating & Electric has served the Denver/Boulder Metro areas for more than 37 years. The company has consistently been rated one of the nation's top 10 service companies by their customers and has achieved the Nexstar Network and the 2007 City of Golden Rotary Ethics in Business Award.