Applewood Helps Kids Explore Science Outdoors
April 6, 2009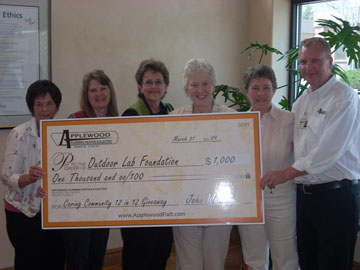 Middle school students are bringing earth science, wildlife biology, astronomy and ecology out of the classroom and into a mountain setting thanks to Applewood Plumbing Heating & Electric. The Outdoor Lab Foundation is the March winner of Applewood's $1,000 "Caring Community 12 in 12 Giveaway."
During the Outdoor Lab week students learn about nature in an outdoor environment, explore living history, force and motion, and practice reading and writing skills. "Creative learning and applied knowledge works well with all types of education," said John Ward, owner of Applewood Plumbing Heating & Electric. "It's exciting to see a program's foundation designed to make learning fun."
This integrated course involves middle school, high school and college students. "This is more than a science program," claims Kathy Weiss, a chairman of the board. "Many of these middle school students have never spent a night away from home. So, it's a great social program." Along with science classes, the Foundation provides internships and a gifted and talented scholarship program for high school and college students. The Outdoor Lab engages students in problem solving, team building and prepares students for a successful future.
The local nonprofit maintains the Outdoor Education Lab by running fundraising events and building relationships with local businesses. With a staff and board of volunteers the Foundation has helped provide GPS units for compass mapping classes and donated the mounting and pad for a telescope in the astrology program.
Many elementary students look forward to the Outdoor Lab experience. Money donated goes directly to the schools to ensure that every sixth grader can participate. The next fundraising event will be a Casino Night on June 20, 2009 at the Tivoli Events Center on the Auraria Campus.
Applewood Plumbing Heating & Electric has served the Denver/Boulder Metro area for more than 37 years. The company has consistently been rated one of the nation's top 10 service companies by their customers and is honored to have achieved the Nexstar Network Select Service Designation, the 2007 City of Golden Rotary Ethics in Business Award and named a finalist in the 2008 Better Business Bureau Torch Award for Marketplace Trust.
For more information or to nominate a local nonprofit for the "Caring Community 12 in 12 Giveaway," call 720-249-5145 or visit our 'Caring Community' page on our website.