Applewood Helps the Front Range Barracudas Keep On Swimming
September 6, 2011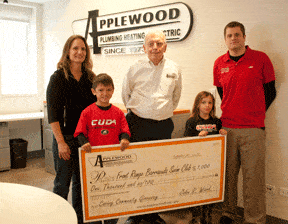 Of the dozens of nationally recognized swim clubs in Colorado, the Front Range Barracudas are looking to swim to the front of the line. Sunshine, wind, sleet or snow, the CUDAS can be found getting in touch with their amphibious side, training year-round in the hopes of competing in national competitions.
Applewood Plumbing Heating & Electric is awarding the Barracuda Swim Club $1000 to help fund the club's equipment and dues as the September 2011 "Caring Community Giveaway" winner.
The Front Range Barracuda Swim Club has been around for 30 years and Applewood President John Ward wants to see the team continue long into the future, "Exercise and healthy competition are vital to a child's well-being, and Applewood is proud to help further the life of this great Club."
With the Applewood donation, the CUDAs plan to purchase swim equipment and also keep dues reasonable for swimmers. "It was an awesome surprise," says head coach Andrew Brand.
Coach Brand has been the leading the team since 2009, but has been coaching since 2006. "Being a 501(c)(3), money is tight and this boost of $1,000 we didn't know was coming helps a lot with getting our kids the supplies they need."
The Front Range Barracuda Swim Club (a USA Swimming team) is a year-round competitive swim team serving swimmers in North Metro Denver, including Broomfield, Thornton, Westminster, Northglenn, Brighton and Superior. The team has approximately 150 swimmers ages 5 to 18 who train at two pools.
Some of the CUDAs will be competing on the national level over the holidays. Their next big meet is the 2011 Speedo Short Course Junior National Championships December 8-10 in Austin, Texas.
Applewood Plumbing Heating & Electric has served the Denver/Boulder Metro area for more than 37 years and are proud to have been named the 2009 winner of the Better Business Bureau's Torch Award for Marketplace Trust in the Large Business category; they are honored to have been named 2007 City of Golden Rotary Ethics in Business Award winner.