Applewood High Steps to Legend's Marching Band
November 6, 2010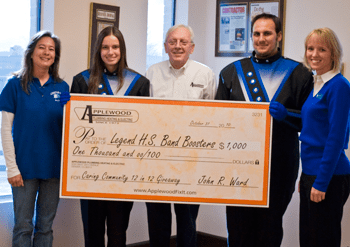 High step, slide step, formations and choreography are the old and the new in the fine art of marching bands. Applewood Plumbing Heating & Electric is stepping up as Legend High School Band Boosters are named the October $1,000 Caring Community Giveaway winner.
"Recognizing talent is an important part of what we do as a business," said John Ward, president of Applewood. "The musicians of Legend's marching band have talent that is on the fast track to best in the state."
As professional touring bands began to disappear in the early twentieth century, American schools filled the void. Legend High School's band is one of the newest additions in Douglas County. Legend's band competes at the 4A level and is quickly mastering the finer points of marching.
"The school opened in 2008 and the band was ready for its first performance year in 2009-2010," said Rob Moroni, Band Booster president. "Our band director, Orlando Otis, didn't want to wait until we had senior performers in our band, so we were up and ready to go within the first year." Moroni's daughter, who plays trumpet, is a squad captain.
The band has 115 members, and participated in nearly 10 events during the competition year including an appearance in the state finals. The band placed sixth this year out of 30 bands. "It's our second year and we don't even have a senior in our band yet," Moroni said. "We're going to be amazing as we mature."
The band boosters plan to use the $1,000 from Applewood to help fund show instructors and cover meals for the band during competitions. The boosters use a number of means for raising funds from golf tournaments and craft fairs to a poker tournament.
Applewood Plumbing Heating & Electric has served the Denver/Boulder Metro area for more than 37 years and is proud to have been named the 2009 winner of the Better Business Bureau's Torch Award for Marketplace Trust in the Large Business category. They are honored to have achieved the Nexstar Network Select Service Designation and to have been named 2007 City of Golden Rotary Ethics in Business Award winner.