Applewood Honors Veteran Organization
February 6, 2012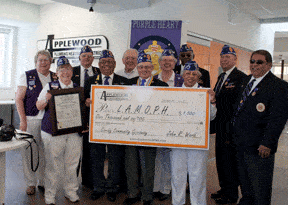 DENVER – As more veterans return home, more and more services are needed. There are currently an estimated 426,000 veterans who reside in the state of Colorado who are qualified to receive care offered through the community.
Applewood Plumbing Heating & Electric (www.ApplewoodFixIt.com) named the Ladies Auxiliary Military Order of the Purple Heart (www.LAMOPH.org) its Feb. 2012 $1,000 "Caring Community Giveaway" winner. LAMOPH honors the service and devotion of veterans for all branches of the military by donating care baskets, Christmas gifts and Thanksgiving food baskets.
"We want to see the organization continue its efforts to support Colorado veterans," said Applewood President John Ward.
The Military Order of the Purple Heart is composed of service men and women who receive the Purple Heart Medal for wounds suffered in combat. The Department of Defense has awarded 1.7 million Purple Hearts since the creation of the medal.
LAMOPH was chartered in 1967 and is based in Aurora, Colo. There are currently 18 active volunteers led by board President Jan Huffman. The group focuses on two primary events each year, one at Thanksgiving, the other near Memorial Day where more than 600 meals are prepared for veterans.
"Receiving finances will enable us to meet the needs to provide simple basic comfort to veterans," says Becky Amaya, secretary-treasurer of Unit 375. "We are there to brighten their day and thank them for their service."
Applewood's "Caring Community Giveaway" is one of the ways the company is giving back to those in need. LAMOPH will use Applewood's donation to provide veterans in nursing homes with items such as Kleenex, magnifying glasses, books, games, magazines and pictures.