Applewood Impacts Cancer Survivors With Exercise Scholarships
October 6, 2010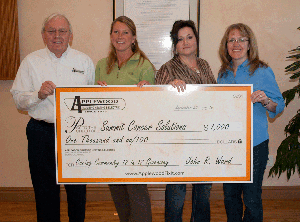 Nearly 25,000 Coloradans are diagnosed with cancer each year. I Triumphantly, it is also estimated by the Colorado Cancer Plan that there are 150,000 survivors of 10 years or more. As the Applewood Plumbing Heating & Electric (www.ApplewoodFixIt.com) September "Caring Community Giveaway" $1,000 winner, Summit Cancer Solutions hopes to continue this trend through its exercise program.
"This is one way we can help impact the health of our community," said John Ward, president of Applewood. "Exercise is important to all of us, but especially to those who are recovering from major illnesses."
Summit is the only program in Colorado offering cancer exercise support. The program has expanded from initially only serving breast cancer patients to serving patients with all types of cancer. Both men and women take part in the program.
"We have had 1,300 people go through the program," said Therese Thompson, Summit executive director. "What we have found is the exercise helps these cancer survivors and the program also builds a strong support network that isn't focused on always talking about cancer, but rather about other things in their lives," she said.
Participants take part in a 6-month, 1 1/2 hour personalized exercise plan that focuses on strength, cardiovascular health, balance and flexibility. Summit plans to use the funds from Applewood for scholarships to benefit those that cannot afford the program. "Nearly 40 percent of our participants need assistance," said Thompson. Like many community programs, Summit struggles to have enough funds for all those that have need.
Summit Cancer Solutions was founded in 1993 by Karen Hornbostel, an exercise physiologist who was diagnosed with breast cancer. As a competitive cyclist, Hornbostel recognized the value of exercise in regaining her strength during treatment. The program is supported by the Susan G. Komen Foundation and currently offers programs in nine area recreation centers and one YMCA location.