Applewood Plumbing Cares About Education
March 6, 2009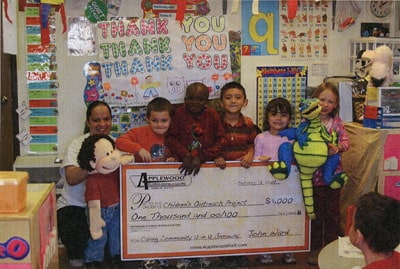 The Children's Outreach Program is an early childhood education and child care center. The school's mission is to offer an integrated, quality early childhood education to typical, accelerated and developmentally delayed children in the metro Denver area.
"The children in our community are our future and getting them a quality education cannot be taken lightly," said John Ward, owner of Applewood Plumbing.
The center was started in 1970 as an outreach program of the JFK Center at the University of Colorado Health Sciences Center. It now has its own facility that offers pre-school, kindergarten and child care services. The center uses a creative curriculum that focuses on four major areas: social and emotional skills, physical growth, cognitive awareness and language development.
The school has recently seen a drop in corporate donations making Applewood's donation even more greatly appreciated. "The money will go towards a program called Incredible Years Dinosaur School. It is a very effective program that deals with behavioral issues and social problems using a puppet-based program," said Stephanie Baer, executive director of the Children's Outreach Program.
The school is getting closer to its budget but the economy has affected them. "The money is more critical than ever to us," said Baer.
Each month Applewood Plumbing Heating & Electric gives away $1000 to a local nonprofit in an effort to help the community. This is the fourth year that owner John Ward has provided the "Caring Community" donations on a monthly basis. For more information or to nominate a local nonprofit for the "Caring Community 12 in 12 Giveaway," call 720-249-5145 or go to www.ApplewoodFixIt.com.
Applewood Plumbing Heating & Electric has served the Denver/Boulder Metro area for more than 37 years. The company has consistently been rated one of the nation's top 10 service companies by their customers and is honored to have achieved the Nexstar Network Select Service Designation, the 2007 City of Golden Rotary Ethics in Business Award and named a finalist in the 2008 Better Business Bureau Torch Award for Marketplace Trust.