Applewood Plumbing Funds Training to Impact Neonatal Care
September 6, 2009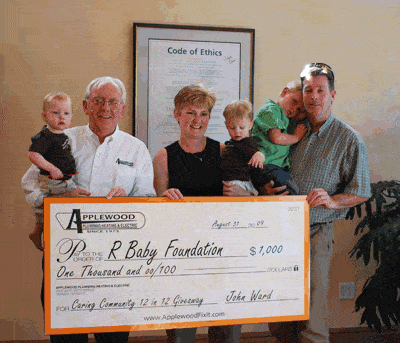 Some say the teen years are the toughest for a kid, and maybe that's true for a parent. In reality, the toughest days are the first 30 – that first month of life when a newborn is adjusting to the world. Unfortunately, more than 30,000 infants die each year during this 30-day period.
To help prevent some of these deaths, Applewood Plumbing Heating & Electric's "Caring Community 12 in 12 Giveaway" will help provide specialized training and equipment for physicians and emergency response teams through the R Baby Foundation, August's $1,000 Giveaway winner.
"We need to be sure we do everything we can to provide the care a child needs to survive," said John Ward, owner of Applewood Plumbing. "Having the right tools and training are part of providing that kind of care," he said.
R Baby Foundation focuses on the first 30 days of life by bringing awareness to the life threatening viruses newborns can battle. In that effort, improving pediatric emergency care is a critical component in saving many of these young lives. Training, education, research and access to appropriate equipment are all essential to reduce the number of infant deaths.
"When we brought our healthy daughter home, we had no idea nine days later we would be facing the loss of our child," said Corinne McMurray, who started the Colorado R Baby Foundation branch. "Rhiannon came down with a very rare virus that took her from us virtually overnight."
The $1,000 will be used to purchase necessary equipment and provide specialized training. The training for emergency personnel is key since most of the cases are brought to the hospital ER for treatment. The R Baby Foundation will be teaming with Children's Hospital and ultimately, provide training statewide to further awareness, research and education on diagnosis and treatment.
"You have to go to the root in what needs to be taken care of to have an impact. When EMTs and doctors aren't prepared, we lose a child," said McMurray.
Applewood Plumbing Heating & Electric has served the Denver/Boulder Metro area for more than 37 years. The company has consistently been rated one of the nation's top 10 service companies by its customers. They are honored to have achieved the Nexstar Network Select Service Designation, to have been named 2007 City of Golden Rotary Ethics in Business Award winner and also named a finalist in the 2008 Better Business Bureau Torch Award for Marketplace Trust.