Applewood Plumbing Heating and Electric Aids Argyle Foundation in Relieving Financial Stress of Senior Citizens
May 6, 2011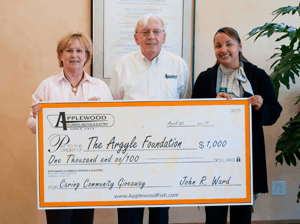 Medical bills, living accommodations and daily care for senior citizens come at a high price. In fact, only two percent of individuals over age 65 are completely self-sustaining. As recipients of Applewood Plumbing Heating and Electric's $1000 Caring Community Giveaway for the month of April, the Argyle Foundation will be able to help many fill this gap.
"We appreciate the care and consideration that affords senior members in our community a quiet, relaxing place where they will be taken care of," said John Ward, president of Applewood Plumbing Heating and Electric. "We strive to provide fair service to elderly customers in our business as well."
Unique to the Argyle, a senior living community, is their foundation which is dedicated to helping residents in need. Financial stress is among the many afflictions often associated with old age. Money raised or donated to the foundation covers medical or care residents cannot afford themselves. When these needs do arise, the Argyle Foundation offers financial support.
"We are the only assisted living community like this," Debbie Lovill, Argyle Foundation director, said. "Our 100 percent program ensures all proceeds of the foundation directly benefit residents, instead of also covering administration fees."
The Argyle community began 130 years ago and is focused on serving low-income seniors in the community. Coupled with care, however, is a need to preserve independence and dignity. Daily activities, ranging from gardening to kickball, offer relaxing and stimulating ways for the roughly 200 residents to spend their days or connect with peers.
The Argyle relies on the community to fund the foundation and care for residents. Many organizations interact with the Argyle on a regular basis. St. Anne's junior high comes to play games with residents, Wheat Ridge High School puts on a monthly bowling tournament, and Regis University physical therapy and nursing students work with residents. In addition, donations such as this from Applewood, keep the program and residents healthy.
Applewood Plumbing Heating & Electric has served the Denver/Boulder Metro area for more than 37 years and are proud to have been named the 2009 winner of the Better Business Bureau's Torch Award for Marketplace Trust in the Large Business category; they are honored to have been named 2007 City of Golden Rotary Ethics in Business Award winner.
For more information or to nominate a local nonprofit for the "Caring Community Giveaway," call 720-249-5145 or go to www.ApplewoodFixIt.com.