Applewood Plumbing Heating & Electric Helps Fight Ovarian Cancer In Colorado
June 6, 2010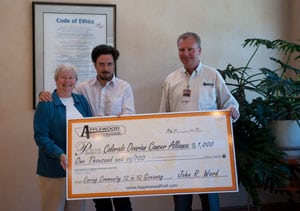 Every year 330 Colorado women are diagnosed with ovarian cancer. Applewood Plumbing Heating & Electric (www.ApplewoodFixIt.com) is helping the Colorado Ovarian Cancer Alliance (COCA) raise awareness as its $1,000 "Caring Community Giveaway" winner.
"This group is doing a wonderful job providing resources to ovarian cancer patients and families," Applewood President John Ward said. "I am impressed by their dedication to helping patients and the medical community. As a company that is very concerned about employee health Applewood is happy to support their mission."
COCA's efforts have made a strong impact with the women who rely on the organization for help and guidance. "It means my life," member Christine Lanphier said. "They have given me all the information I needed and a tremendous amount of support to get through all I had to."
According to COCA's Executive Director Lucy Trujillo, "women diagnosed in stages one or two have a 90 percent survival rate." There is currently no screening test for ovarian cancer and 80 percent of women are diagnosed at stages three and four of cancer growth when there is only a 50 percent survival rate.
For the past five years the COCA has worked to educate women and health care providers about the symptoms and importance of early detection of ovarian cancer. The organization recommends any woman experiencing abdominal pain, feeling full quickly, bloating and urinary frequency for two to three weeks should talk to a doctor. In addition to education, COCA offers women diagnosed with ovarian cancer support and resources to find the best health care. The organization coordinates Nicki's Circle, a monthly support group for patients and family members struggling to understand the disease.
COCA hopes to use the Caring Community Giveaway to increase support groups, especially those that provide free services directly to survivors.
Applewood Plumbing Heating & Electric has served the Denver/Boulder Metro area for more than 37 years and is proud to have been named the 2009 winner of the Better Business Bureau's Torch Award for Marketplace Trust in the Large Business category. The company was also recently rated eighth in the nation's top 10 service companies by its customers. They are honored to have achieved the Nexstar Network Select Service Designation and to have been named 2007 City of Golden Rotary Ethics in Business Award winner.