Applewood Plumbing Heating & Electric Supports Hope House of Colorado
January 6, 2011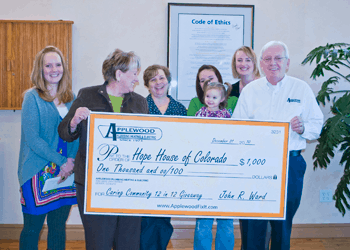 More than 7,000 babies are born to teenage mothers in Colorado annually, and less than one third of those girls receive a high school diploma. But Applewood Plumbing Heating & Electric is trying to make a change by supporting Hope House of Colorado as their December $1,000 "Caring Community Giveaway" winner.
"The work Hope House of Colorado does is simply amazing," Applewood President John Ward said. "The most impressive thing is that they go the extra mile to help these women to become self sufficient and successful."
"The average teenage mother we work with has about a ninth grade education so, in general, their lives have been pretty rough," said Lisa Steven, executive director at Hope House of Colorado. "Most come from orced families with many of them coming from drug or alcohol addicted homes, and most of them have suffered abuse in some form."
Hope House of Colorado helps about 100 women each year through their residential, mentoring and GED programs. They plan to use the Applewood donation to supplement the growing GED program which serves 30-40 girls annually.
The money will help to pay for the girls' transportation, child care and the $100 test fee per exam at Front Range Community College in Westminster, Colo.
"The GED program is just exploding," Steven said. "We have a waiting list now and we'd love to get another teacher."
Hope House of Colorado opened its doors in 2003 to teen mothers looking for housing, to continue their education and seeking overall self sufficiency. They became one of the only associations in the nation that offers such opportunities to teenage mothers. Maternity homes help out during the pregnancy and some adult shelters only take women 21 years old and above.
Applewood Plumbing Heating & Electric has served the Denver/Boulder Metro area for more than 37 years and is proud to have been named the 2009 winner of the Better Business Bureau's Torch Award for Marketplace Trust in the Large Business category. They are honored to have achieved the Nexstar Network Select Service Designation and to have been named 2007 City of Golden Rotary Ethics in Business Award winner.