Applewood Teams Up with Chrohn's & Colitis Foundation's Team Challenge
December 6, 2011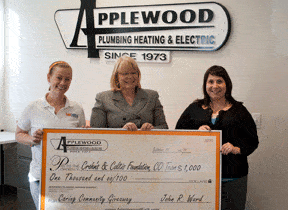 Applewood Plumbing Heating & Electric (www.ApplewoodFixIt.com) is awarding the Crohn's & Colitis Foundation's Team Challenge program $1000 to help fund the foundations as the December 2011 "Caring Community Giveaway" winner.
The award will go to three specific areas within the Crohn's & Colitis Foundation: the research program conducted at the University of Colorado, Camp Oasis, a summer camp for kids in Gysum, Colorado and support groups specializing in education in nutrition and I.B.D. (Irritable Bowel Syndrome) that are held throughout the state.
"We're pleased to make this donation in support of a foundation that enables children to feel comfortable with their digestive disease," said John Ward, Applewood Plumbing Heating & Electric president.
All of the donations given to C&C Colorado stay within the state and 75% percent of every dollar given goes to finding a cure for these debilitating digestive diseases.
"Our goal is to raise $120,000 by Jan. 4 of next year and we just passed $75,000," said Team Challenge endurance manager for Denver, Shana Spencer. "This money helps us get closer to that goal and enables us to send kids to camp next year."
Team Challenge is currently in training for the Las Vegas Rock 'n' Roll Half Marathon and hopes to add the Kona, Hawaii Half Marathon and the Napa Valley Half Marathon to their list for 2012.
Applewood Plumbing Heating & Electric has served the Denver/Boulder Metro area for more than 37 years and are proud to have been named the 2009 winner of the Better Business Bureau's Torch Award for Marketplace Trust in the Large Business category; they are honored to have been named 2007 City of Golden Rotary Ethics in Business Award winner.