Applewood Unites With Special L.I.N.K.S
April 6, 2008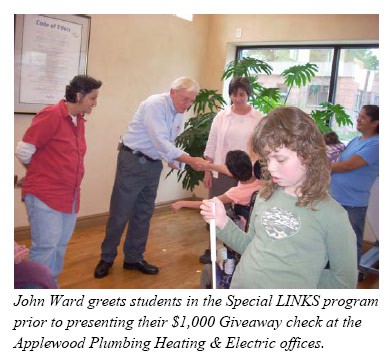 There are approximately 4.5 million iniduals with developmental disabilities in the United States, according to the Administration on Developmental Disabilities, a ision of the U.S. Department of Health and Human Services. Developmental disabilities are life-long mental and/or physical impairments and more than 90,000 children are affected by developmental disabilities in Colorado.
Applewood Plumbing Heating & Electric is helping Special L.I.N.K.S. (Letting Special Needs Kids Succeed), a local non-profit organization and learning center for the developmentally disabled. Special L.I.N.K.S. is the May recipient of the $1,000 monthly "Caring Community 12 in 12 Giveaway" awarded by Applewood Plumbing Heating & Electric.
Special L.I.N.K.S. provides an inidualized education of academics, community and life skills to students with special needs. Their goal is for students to achieve independence and lead quality lives while becoming active members of society.
"I'm glad that there are places like Special L.I.N.K.S. to offer children, no matter what their challenges might be, a chance to succeed," said John Ward, owner of Applewood Plumbing Heating & Electric. "I'm glad Applewood is able to give back to the community and fill a necessary programming need."
Special L.I.N.K.S. has more than 20 students and is the only center in Colorado which combines educational and therapeutic programs into their curriculum center. The learning center boasts a year-round educational program and is set apart by teaching their students life and community skills to help the students become active members of the community.
"Applewood's donation will be incredibly helpful with opening up our arts and cultural programs this summer," said Deb Winter, executive director of Special L.I.N.K.S. "It will aid us with our community trips, where the students get out and experience what the community has to offer."
Applewood Plumbing Heating & Electric has served the Denver/Boulder Metro areas for more than 37 years. The company has consistently been rated one of the nation's top 10 service companies by their customers and has achieved the Nexstar Network Select Service designation and the 2007 City of Golden Rotary Club's Ethics in Business Award.