Arvada West Men's Swim Team Accepts Caring Community Giveaway
January 6, 2010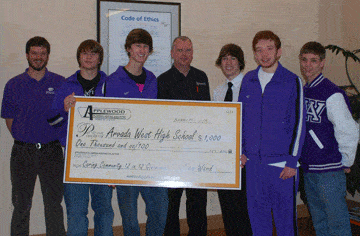 Applewood Plumbing Heating & Electric gave $1,000 to the Arvada West Men's Swim Team as the winner of its December "Caring Community Giveaway." With a roster of 31 swimmers, the Arvada West Men's Swim Team is a well-attended sport within the high school community.
"The Arvada West Men's Swim Team brings together the Jefferson County community to support this team, much like a family. Being a family-oriented company ourselves, we can understand, and as professionals appreciate, the commitment it takes to perform well," said John Ward, President of Applewood Plumbing Heating & Electric.
With the lack in fundraising opportunities, it is difficult to raise that little extra to give the team what it needs. According to Lois Sisson, team parent with the Arvada West Men's Swim Team, the contribution will be used to buy personalized team apparel including swim caps and swim suits, help pay for the end-of-the-year team banquet, coaches', team managers' and team seniors' gifts. "Mainly, the donation will be used for all the items that are not covered at the district level," she said.
"We want to make the best out of our team. We have a great Junior and Senior class this year," Sisson said. In the previous year, three team relay swimmers competed in the state meet. "Our success from last season has fueled the audiences for this season's team. We feel like a team and now we want to look like a team. This donation will contribute greatly to achieving that goal," she said.
Applewood Plumbing Heating & Electric has served the Denver/Boulder Metro area for more than 37 years and is proud to have been named the 2009 winner of the Better Business Bureau's Torch Award for Marketplace Trust in the Large Business category. The company was also recently rated eighth in the nation's top 10 service companies by its customers. They are honored to have achieved the Nexstar Network Select Service Designation and to have been named 2007 City of Golden Rotary Ethics in Business Award winner.