Back to School
August 6, 2012
Easing the Transition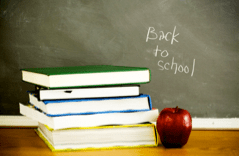 Going back to school after two months of summer holidays can be either a happy time or something to be dreaded, depending on the child and his or her experience with school. Whether going back to school is happy or not, gradually moving back towards fixed bedtimes and wake-ups in the weeks before school begins, purchasing new supplies and clothes for the year ahead and having an end of summer celebration can help a child transition from summer to autumn.
Back to School Bedtimes
During the summer, parents and children can afford to become relaxed about enforcing bedtimes and often leave the alarm clock switched off. It is important to allow children some flexibility during the long daylight hours of midsummer, but gradually enforcing earlier bedtimes as school approaches will make that early morning waking up easier. If a child's bedtime has drifted to an hour or more later than it will need to be to allow him enough sleep during school, shift it back by 15 minutes every couple of days instead of moving it suddenly.
Preparing School Supplies and Clothes
Help children prepare for their year ahead by bringing them with to purchase school supplies and new clothes. Choosing a new pencil case and notebooks can help some children get excited about going back to school, and most will have their own opinions about the kind of clothes they want to wear. Practice laying out clothes and supplies the night before so that it will be a routine by the time school starts.
Preparing for Changes and Separation
Going back to school is often a time of many changes, with new schoolmates, classrooms and teachers. This is especially true for children going to preschool or kindergarten for the first time, or for older children moving from elementary to secondary school. Talk with children about what they can expect in their new school. Young children going to preschool or kindergarten for the first time may need a parent to help them make a gradual transition to staying at school by themselves, especially if the child is shy or is unfamiliar with a childcare setting away from home.
End of Summer Celebrations
Having a party, beach BBQ or end of summer family camping trip can help children use ritual to say goodbye to the dog days of summer and welcome the changes in the year ahead as they go back to school. Choose a celebration as a family and consider inviting a few friends from the child's new school so that he will see some familiar faces on that first day back in the classroom.
Whether a child is going to school for the first time or entering the final year of high school, making the transition from summertime to the school routine can be difficult if it is very sudden or unprepared. Help children prepare to go back to school by introducing earlier bedtimes gradually, involving them in choosing new clothes and school supplies, talking about having a new classroom, teacher and classmates, and celebrating the end of the summer together.