"Caring Community Giveaway" Winner to Commemorate Veterans
July 6, 2011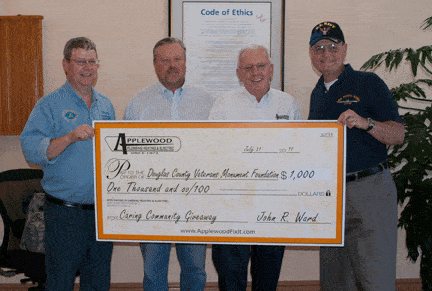 There are currently more than 400,000 military veterans living in Colorado, according to the U.S. Department of Veterans Affairs. The Douglas County Veterans Monument Foundation is Applewood Plumbing Heating & Electric's (www.ApplewoodFixIt.com) July's "Caring Community Giveaway" recipient and will receive $1000 to help create a monument to commemorate these individuals.
John Ward, president of Applewood Plumbing Heating & Electric, commented, "It's important to recognize those individuals who ensure our safety. Our business and livelihood wouldn't be possible without their protection of our freedom."
The monument will salute the Army, Air Force, Navy, Marines, Coast Guard and Merchant Marines. The final statue will feature an eagle soaring with the corner of Betsy Ross's 13 star flag and will reside on the same ground as the historic Douglas County Court House. Service flags for each branch will surround the statue which will feature seals for each service as well as a dedication plaque, Gold Star Mothers plaque and POW/MIA plaque. Commissioning of the finished monument is set for Veterans Day on November 11, 2012.
"This is the first kind of memorial to honor all veterans in Douglas County," said Todd DeVoe, member of the Foundation board of directors. "We are reaching out to citizens for donations and so far the community has really stepped up."
The foundation's fundraising goal is $120,000. A groundbreaking ceremony took place on August 10, 2011 to begin creation of the monument.