Cat Walk Theatre Gets Holiday Wish with Applewood Giveaway
December 6, 2010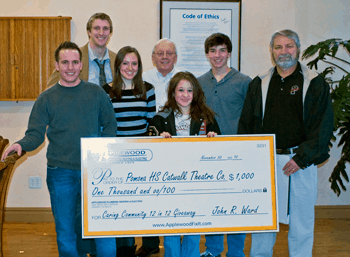 The magic of the holidays is usually found under a tree or in a special celebration, but this time, it was in the form of a giveaway. Pomona High School's Cat Walk Theatre received an early present as the November $1,000 Caring Community Giveaway winner from Applewood Plumbing Heating & Electric.
"To support students performing at their highest capability is a real honor," said John Ward, president of Applewood. "You don't often get the chance to be a part of an opportunity that will last a lifetime. This is one of those time for this gifted theater program."
Each year one high school is selected to perform at the state Thespian Conference. Pomona's Cat Walk Theatre has had the luxury of being chosen in the past, but this year's selection brings the troupe full circle. "As a Pomona student I was lucky enough to go to this conference, now to return as one of the directors makes it just that much better," said Beau Augustin, a teacher and the program's director. The production was chosen from 14 other area high school performances to entertain at the conference.
There are 40 crew members and a cast of 18 in the show. Students have been creating sets, gathering and making props, costumes and other production needs. "The students are so passionate about it and this performance is something that will stick with them the rest of their life," Augustin said.
Applewood's $1,000 was used to transport sets to the downtown theater, printing of additional programs, feed crew and cast and take care of set-up and break down costs. The task was no easy endeavor. "We have to set up, rehearse, perform and tear down in less than 24 hours," Augustin said. "It can really be insurmountable without support like this," he said. "Across the board from the students, parents, cast and faculty we have been wowed by this gift."
Applewood Plumbing Heating & Electric has served the Denver/Boulder Metro area for more than 37 years and is proud to have been named the 2009 winner of the Better Business Bureau's Torch Award for Marketplace Trust in the Large Business category. They are honored to have achieved the Nexstar Network Select Service Designation and to have been named 2007 City of Golden Rotary Ethics in Business Award winner.