Colorado SIDS receives April $1000 Crazy Giveaway Gift
April 6, 2007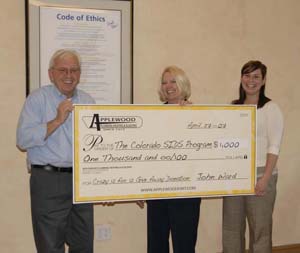 Applewood Plumbing Heating & Electric is "paying it forward" by giving away $1,000 a month to local non-profits who are nominated by area residents in their "Crazy 12 for 12 Campaign." This is the second year for the campaign, which helps local nonprofits.
"It is a real opportunity to have an impact with the smaller organizations where $1,000 can really make a powerful difference," said John Ward, owner of Applewood Plumbing Heating & Electric. "Last year's Crazy Campaign helped thousands with needed programs, resources and educational opportunities."
The April winner is the Colorado SIDS Program, Inc., of Denver. For more than 25 years, the organization has provided support and counseling to families affected by SIDS (Sudden Infant Death Syndrome). Colorado SIDS is expanding its mission to include any sudden infant death, according to Tena Saltzman, executive director. In addition to the support and counseling services, risk reduction and prevention education programs are being implemented through Colorado's communities.
Saltzman and Jenny Young, Resource director at SIDS received the $1,000 check from John Ward, owner of Applewood Plumbing, Heating & Electric on Tuesday, May 22, 2007. SIDS was nominated by Tara Gratz who made the nomination in honor of her son, Gavin Eli.
Colorado SIDS depends on community support to offer its free services. "We rely on donations and community support to be able to help families, so what Applewood Plumbing Heating & Electric is doing for Colorado SIDS is absolutely incredible," Saltzman said. "You are saying that you care about these families by supporting us."
The local nonprofit was nominated by Tara Gratz, a member of the committee planning for the "Falling Leaves Memorial Walk." The donation from Applewood will support this event in August as well as the many programs and services being provided to Colorado families. Annually, SIDS assists with an average of one death per week. "These funds will help us continue to help these families," Saltzman said.
Applewood Plumbing Heating & Electric has served the entire Denver/Boulder Metro areas for more than 37 years. The company has consistently been rated one of the nation's top 10 service companies by their customers and has achieved the Nexstar Network Select Service rating. This is further evident through their strong community presence and participation in local events that support local nonprofit organizations throughout the Denver/Boulder Metro areas.