Eagle Scout Wins Applewood $1,000 Giveaway
May 6, 2007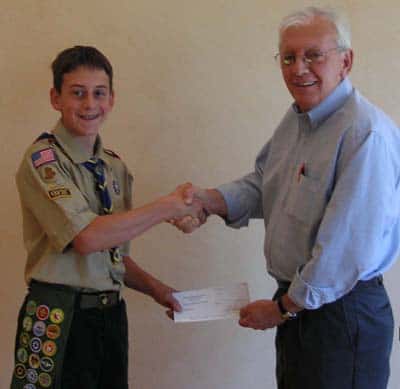 Bring on the heat and the construction. May's winner of the "Crazy 12 for 12" Giveaway, Matthew French has high hopes this August for the development of a new trail he calls the Eagle Project.
Owner of Applewood Plumbing Heating & Electric, John Ward presented Matthew with his winning check of $1,000 on July 2, 2007 which will be put towards the construction of the trail. The materials needed to complete the project include; timbers, re-bar, landscape fabric, crushed rock and food for the workers.
"It is a real opportunity to have an impact with the smaller organizations where $1,000 can really make a powerful difference," said John Ward, "Last year's Crazy Giveaway helped thousands with needed programs, resources and educational opportunities."
Matthew, 13, is a Life Scout in troop #999, sponsored by Faith Christian Academy where Matthew is an A-average student. He has been with the troop for five years and has a vested interest in the outdoors. For his final project to receive Eagle Scout rank, Matthew's idea for the construction of the trail was only half of what it will be now because of the Applewood donation. As a result of being the May Giveaway winner, Matthew and the district can now complete the entire trail.
"Tears came to my eyes," Sue French said, mother of Matthew. "With this kind of investment by Applewood, the whole community is going to benefit from this trail. The impression it makes on a young man to have a community vision helps him to turn around and do the same for others," she said.
With the support of Applewood Plumbing Heating & Electric, the community and his family, Matthew is thrilled to get started on "his trail" in August. For more information or to nominate a local nonprofit for the "Crazy 12 for 12" Giveaway, call 720-249-5145 or go to www.applewoodfixit.com.