Giveaway Benefits Denver Students
March 6, 2010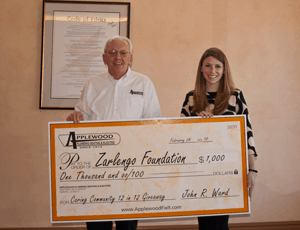 Two-thirds of secondary students with learning disabilities are reading three or more grades levels behind. Of these, 20 percent are reading five or more grade levels behind. In an effort to counter these numbers, Applewood Plumbing Heating & Electric gave $1,000 to the Zarlengo Foundation, an organization that supports children with learning disabilities, and named the Foundation its February "Caring Community Giveaway" winner.
Serving the Denver Metro area, the Zarlengo Foundation is truly one-of-a-kind. "Serving the Denver Metro area ourselves, it is quite the honor to be able to contribute first hand to the future of our city's children." said John Ward, owner of Applewood Plumbing Heating & Electric.
"It's all about the feeling you get when you see the reaction on the children's faces," said Katie Zarlengo, Executive Director for the Zarlengo Foundation. With an upcoming fundraising golf game, Zarlengo says, "Gaining awareness of these fundraisers is the hard part, after that it's truly astonishing to see what one small event can generate. The money from Applewood will go towards one of our partnered schools to purchase classroom supplies, teacher training, and aid in scholarships," said Zarlengo.
Inspired by its ancestry of leadership, the Zarlengo Foundation strives to support the intellectual and spiritual growth of iniduals of all ages and backgrounds in order to perpetuate the tradition of hard work and education as the gateways to success. Areas of support include: schools for learning disabled students, student experience, and facility enhancement.