GMHS Music Boosters Receive the Applewood Caring Community Giveaway for July
July 6, 2012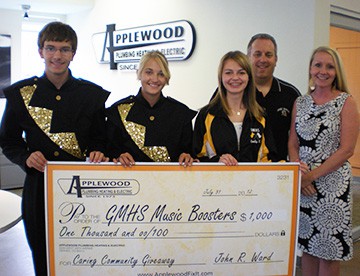 A band without its booster club is like a band without its director. Applewood Plumbing Heating & Electric (www.ApplewoodFixIt.com) is proud to award Green Mountain High School Music Boosters as its July Caring Community Giveaway recipient. GMHS Boosters will receive a $1,000 award for its efforts and support of the marching band.
"GMHS Music Boosters gives the GMHS marching band the resources to compete at a high level," John Ward, Applewood president said. "They help the GMHS marching band focus on being one of the elite marching bands in the state."
The GMHS Music Boosters act as a brace for the GMHS marching band by supporting any units associated with the band by providing operating funds, volunteer services and organizational coordination as requested by Doug Dalton, band director and a former GMHS student. The GMHS marching band has been a finalist in state competition for 27 years running, which is the longest consecutive streak in the state.
"They (GMHS Music Boosters) do a whole lot," Dalton said. "It helps me because we never had an organized group at my old school. The Music Boosters club board comes together to assist with the major needs of the band, whether that be food or fundraising."
Competing in six to 10 competitions with anywhere from 10 to 25 bands, the GMHS marching band has enough on their plates. With a committed booster club, the students can focus on competitions and this year's state competition at the Air Force Academy.
The GMHS Music Boosters help the marching band prepare for competition and provide a community where parents can participate and feel welcome.
"It's very exciting; we raise $20,000 to $25,000 for the marching band," said Therese Thompson, president of the GMHS Music Boosters. "Winning something like this is huge for us. It helps us take care of the marching band and coordinate with the parents. It takes an army to get the kids prepared to compete."
Applewood Plumbing Heating & Electric has served the Denver/Boulder Metro area for more than 39 years and are proud to have been named to the Denver Post's 2012 List of Top Workplaces. They are honored to be the 2009 winner of the Better Business Bureau's Torch Award for Marketplace Trust in the Large Business category; and a recipient of the City of Golden Rotary Ethics in Business Award.
For more information or to nominate a local nonprofit for the Caring Community Giveaway, call 720-249-5145