Lakewood Optimists win August $1,000 Giveaway
August 6, 2007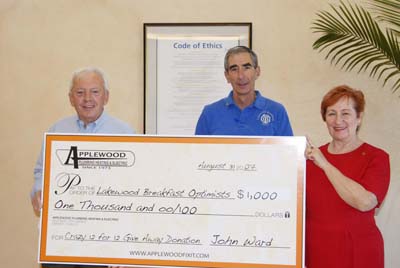 Conducting more than 65,000 community service projects each year, Optimist Clubs around the world positively affect a total of six million kids. With support from Applewood Plumbing Heating & Electric's "Crazy 12 for 12" Giveaway, www.applewoodfixit.com, the Lakewood Breakfast Optimists Club will continue "bringing out the best in kids."
Owner John Ward presented the August Giveaway winner and president elect of the Lakewood Breakfast Club, Linda Lee Law, with a check of $1,000 on September 20. The award money will be put toward the Clubs scholarship fund.
"I love to see the Giveaway helping organizations with educational opportunities," said Ward. "Giving back to the community is what this Giveaway is all about."
Since 1919, Optimist Clubs have been "bringing out the best in kids" and meeting the needs of young people in communities worldwide. These volunteer, community service-based organizations are committed to creating a more optimistic future for young people through innovative programs. The Clubs value children and help them develop to their full potential. Optimist Clubs conduct service projects aimed at providing a helping hand to youth. There are 105,000 inidual members who belong to more than 3,200 autonomous Clubs.
The Lakewood Breakfast Club supports local schools and aids in academic programs such as the Brain Bowl and a scholarship program. The Breakfast Club's scholarship fund is given to a high school graduate from Lakewood each year and is put towards any Colorado college of their choosing.
Law is excited about being Applewood's August Giveaway winner and has many new ideas to share for her upcoming term as the club's president. "The timing is perfect and I was speechless when I received the news," she said.