May Giveaway Benefits Children with Cancer
June 6, 2009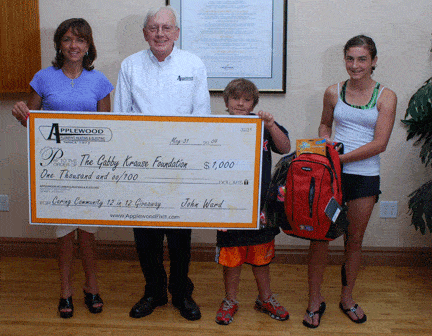 The Colorado Department of Public Health and Environment reported that cancer claimed the lives of nearly 20 children between the ages of five and nine per 100,000 people in 2005. Devoted to charitable giving in the Denver metro area, Applewood Plumbing Heating & Electric is contributing $1,000 to an organization that helps children with cancer forget their illnesses and be happy while undergoing treatment.
Applewood Plumbing Heating & Electric's contribution is part of the company's "Caring Community 12 in 12 Giveaway," which donates to a different non-profit organization every month. The May winner is the Gabby Krause Foundation and its "Bags of Fun" program. Through Bags of Fun, the foundation provides bags filled with fun and interactive toys to children battling cancer and other major illnesses.
"Bags of Fun gives children with cancer a break from their illness," said John Ward, owner of Applewood Plumbing Heating & Electric. "It gives them something to do and think about other than their treatments."
The Gabby Krause Foundation was started in October 2004 by Tammy Krause, whose daughter Gabby died of brain cancer in September of that year.
"She had a bag that she took with her, and she called it her bag of fun," said Krause of her daughter. "Before she passed she asked me, 'How come the other kids don't have bags?'"
It was that question that motivated Krause to start Bags of Fun.
According to Krause, each bag donated by the organization is valued at $350. The bags, which are gender and age specific, each contain one major electronic item such as a Leepster, Nintendo DS, or portable DVD player. Since May 2005, the foundation has donated more than 1,200 bags.
"A lot of kids need to be physically and mentally busy while in the hospital," commented Krause.
Tiffani Titus, a mother from Littleton whose 3-year-old daughter, Aiva, opted to forgo birthday gifts and collect Target gift cards for Bags of Fun, nominated The Gabby Krause Foundation for Applewood Plumbing Heating & Electric's monthly giveaway. Similar to Applewood Plumbing Heating & Electric, Titus and her family are dedicated to charitable giving on a regular basis.
"It was our New Year's resolution to do something for an organization every week," said Titus, who asked her daughter if she would rather receive gifts or give to someone else. "Aiva said she would rather give them."
Applewood Plumbing Heating & Electric has served the Denver/Boulder Metro area for more than 37 years. The company has consistently been rated one of the nation's top 10 service companies by its customers. They are honored to have achieved the Nexstar Network Select Service Designation, to have been named 2007 City of Golden Rotary Ethics in Business Award winner and also named a finalist in the 2008 Better Business Bureau Torch Award for Marketplace Trust.