Pomona Marching Band to Sport New Tubas Thanks to Applewood Plumbing $1,000 Giveaway
May 6, 2010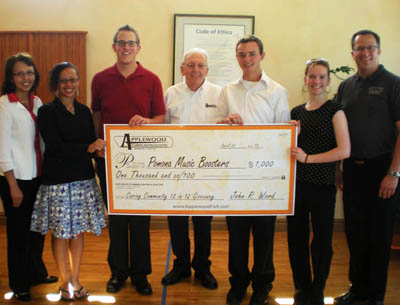 Pomona band students and boosters accept their $1,000 check from John Ward. Pictured are: Veronica Hensel, booster parent; Julanne Wilson, Jack McGinn, John Ward, Parker Bodily, Danielle Bennett and Ed Roush, band director.
We've come a long way from the first "V" formation at a university halftime in 1907 to Pomona High School's 11 winning state marching band competitions featuring intricate displays. Those kinds of feats are achieved with hard work, talent and the right equipment.
Pomona's Music Boosters are the April winner of Applewood Plumbing Heating & Electric's (www.ApplewoodFixIt.com) $1,000 "Caring Community Giveaway." The funds will help support Pomona's Marching Band with the purchase of new tubas.
"Our current tubas are around 55 years old," said Veronica Hensel, a Music Booster parent. "The addition of new instruments will make a huge impact for our band."
Applewood president, John Ward knows the value a well rounded education can have in the development of our community. "As a company that seeks employees with erse talents, Applewood is excited to support these up and coming musicians." Ward added, "along with the music, they are learning how focus and dedication leads to success."
The band, which has been directed by Ed Roush for the last 15 years, performed at the Summit of the Eight World Economic Conference, been selected to perform at two Rose Bowl Parades, two London New Year's Day Parades and finished in 5th place at the 1996 Bands of America Grand National Championship. There are more than 180 students in the band program at Pomona, which features a number of bands in addition to the marching band.
"This donation is going to make music available to students who might not otherwise be able to play," Hensel said. "This gift is a wonderful opportunity for Pomona's band as we enter into our next season."