Scholarship Fund Benefits From Applewood Plumbing Giveaway
October 6, 2009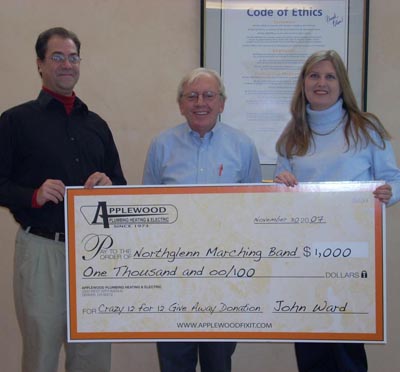 One more student has a chance at financial support thanks to Applewood Plumbing Heating & Electric who gave Eagle Legacy Foundation $1,000 as the September winner of the "Caring Community 12 in 12 Giveaway."
"You hate for money to be the reason a student can't achieve their dream," said John Ward, president of Applewood Plumbing Heating & Electric. "Whether it is a trade or degree program, everyone should have a chance at refining their talents."
Eagle Legacy Foundation was created through the Eagle Legacy Credit Union in Arvada, Colo. The Foundation has been giving scholarships since 2006 and averages 150 applications each year. This year, 15 students were awarded $20,000 to support their advanced education. "The program has grown each year," said Debra Denning, Foundation President. "We are here to support any Colorado student with college aspirations and Applewood's donation means a lot to us because we can now give one more scholarship to a student this year."
The Foundation also supports the community as well. According to Denning, the Foundation has matched funds for employees participating in Race for the Cure and the Junior Achievement Bowl-a-Thon. "We have given matching grants for projects to Hope House and Colorado Homeless Families," she said. This year, more than $3,000 in community grants have been awarded.
The Foundation raises funds through its employees, customers, private donors and special events. "Anything we can think of to make money we do it," Denning said. "We have gotten pretty creative." Employee jeans days, potlucks, garage sales, bake sales along with working OktoberFest and hosting an annual golf tournament help build the scholarship fund.
Applewood Plumbing Heating & Electric has served the Denver/Boulder Metro area for more than 37 years and is proud to have been named the 2009 winner of the Better Business Bureau©s Torch Award for Marketplace Trust in the large business category. The company was also recently rated eighth in the nation's top 10 service companies by its customers. They are honored to have achieved the Nexstar Network Select Service Designation, and to have been named the 2007 City of Golden Rotary Ethics in Business Award winner.
For more information or to nominate a local nonprofit for the "Caring Community 12 in 12 Giveaway," call 720-249-5145 or visit our 'Caring Community' page on our website.