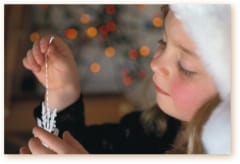 The magic of the holidays with all the sparkling lights and decorations is a natural draw for children. Unfortunately, that attraction can have traumatic, even fatal, results. Statistics show the number of children injured or killed in home fires more than doubles during the winter months and 13 percent of extension cord injuries involve children less than five years of age. According to the Consumer Product Safety Commission, 70 percent of child-related electrical accidents occur at home, when adult supervision is present. A recent survey by the Electrical Safety Foundation International (ESFI) found more than 70 percent of those who plan to decorate their homes for the holiday will use at least one extension cord. This fact alone causes concern, as annually, more than 3,000 residential fires originate from extension cords. Safe and correct use of decorations, lights and extension cords can bring about the brilliance of the holidays without increasing your risk of fire or injury. Here are some electrical safety tips for keeping everyone safe as you prepare for the holidays.
Never overload electrical outlets.
Do not place extension cords where they could cause a tripping hazard, like doorways.
Do not run extension cords under rugs or furniture.
Outdoors use only UL-approved extension cords rated for outdoor use.
Know the capacity of your electrical circuits. Applewood can provide an assessment and recommendations to meet your needs.
Make a plan for your decoration set-up. Know which lights go where and which outlets or extension cords will be used.
Keep all decorations away from heating sources, including space heaters and fireplaces.
Turn off and unplug all decorations before leaving home or going to sleep.
Taking some precautions in your holiday planning will help ensure the safety of all those present in your home, especially your children. For an assessment of your home and its electrical capacity, contact Applewood Plumbing Heating & Electric this holiday season.
We hope your holidays are bright…and warm!