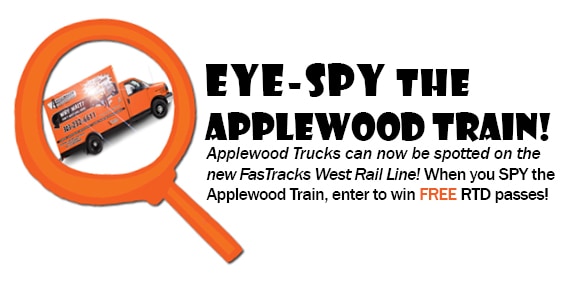 You can't miss our bright orange service trucks buzzing around the Denver & Boulder metro areas, and now there's one more place where you can spot them!
Announcing the 'EYE-SPY THE APPLEWOOD TRAIN' contest! We've wrapped one of the new FasTracks West Rail Line trains with bright orange Applewood service trucks. When you 'Spy' the Applewood train on the West Rail Line, you can enter here to win FREE RTD passes.
We're giving away one 10-ride ticket book per week beginning with the launch of the West Rail Line on April 26, 2013. These pocket-sized books contain 10 tickets valid for one-way bus or light rail service. Normally, a 10-Ride Ticket Book costs $20 for local, $36 for express and $45 for regional. The 10-ride ticket books are perfect for the busy commuter, student, or passenger on the go.
Good luck – and keep your eye out for the Applewood Train on the new West Rail Line and you may just be riding for FREE! The contest begins on April 26, 2013 with one winner selected randomly each month through August 31, 2013.