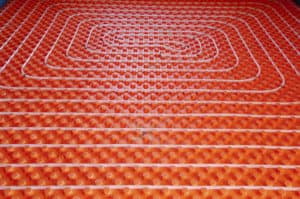 Radiant Heat Installation Circulates Heat Through The Walls of Your Denver Area Home
What is radiant heating? Warm water – generally from 80 degrees to 140 degrees – is circulated through flexible, durable PEX tubing embedded in the floor.
The floor becomes a large radiator and radiates warmth to the walls and objects in the room. As these objects become warm, you experience less heat loss because you are standing next to warm objects. The heating service team at Applewood is staffed by experts at installing these systems, making the process from chilly to warm easier than ever.
The Beauty of Thermal Comfort with Radiant Heat
Radiant heating is arguably superior to convection methods because warm air rises wastefully to the ceiling in rooms.
In contrast, in-floor radiant heating warms the lower part of both the room and allows the heat to naturally rise and cover the room's surfaces.This imparts a feeling of natural warmth to all of the people and objects in the room.
A Finished Look For Your Home
Under floor heating is invisible from above and does not waste valuable wall space with unsightly heating equipment.  It offers a advantage in public areas where exposed hot or sharp surfaces can be dangerous and unsightly, especially for families with pets or children.
An Energy Efficient Heating System Saves You Money
Air-infiltration heat loss is reduced significantly compared to forced-air systems in which duct leakage can drive cold outside air into the building. Heating cold air from the outside requires extra energy,decreases humidity, and costs more.
If you're intrigued by what we've shared with you, take some time to contact us or schedule your next service by clicking on one of the buttons below.
Some of The Benefits of Installing Radiant Heating in Your Home
Unparalleled Comfort – Eliminates cold spots. Floors are warm and cozy to the touch.

Works Almost Everywhere – Use under tile, marble, wood, carpet and concrete floors.

Saves Money – Radiant heat can save 20-40% over traditional heating systems.

Quiet and Invisible – Eliminates noisy fans, popping ductwork and pinging pipes.