24/7 Emergency Plumbers, Electricians or HVAC Technicians For Services and Repairs To Your Denver Metro Area Home
Is your toilet leaking? Backed up? Not flushing? Or do you need a new toilet installed? Toilets are an essential part of our everyday lives. We tend to not really think about them too much until an emergency occurs. Applewood's licensed plumbers can help with any issues you might experience.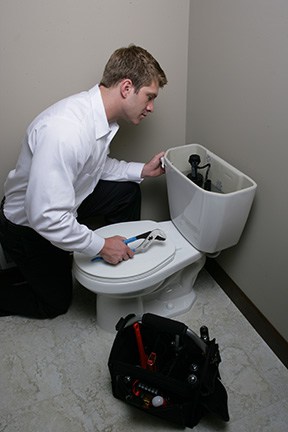 Most Common Leaky Toilet Causes Around Denver
There are lots of reasons for your toilet to spring a leak, but we find these three questions usually corner the problem: Were the parts to your toilet installed over five years ago? Has your toilet had prolonged exposure to bleach in-tank cleaners? Is your toilet showing visible rust, or is it warping with age? No matter what the cause, Applewood Plumbing can have your toilet up and running in no time flat.
No Toilet Problem in Colorado is Too Big For Us
An inexperienced individual may do more damage than good when it comes to fixing toilet problems. Our licensed and trained plumbers are prepared to fix any kind of problem, including:
Bowl draining slowly
Bowl overflowing
Bowl leaking
Seat loose
Tank vibrating when filling
Water running nonstop