Wax On or Wax Off
Much to the surprise of some homeowners, not all wood floors should be waxed. The key is knowing the difference between types of wood flooring… and which do or do NOT need wax. We have some tips on waxing wood floors.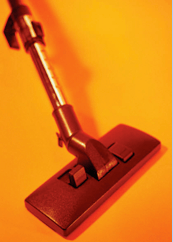 The only types of wood floors that should be waxed are those that contain a penetrating resin or a wax finish. Not sure what type of finish you have? There's an easy test! In an inconspicuous place, try smudging the floor with your finger or thumb. If you see smudges, you are OK to apply a wax buffer.
Floors that have a polyurethane-type finish should not be waxed since wax products will not adhere. If a polyurethane floor is waxed, the floor may have to be sanded down to remove the wax remnants and unsightly build-up.
If you have a non-polyurethane floor, you can wax it to bring back a "like-new" finish. Two of the best floor wax products on the market today are Butcher's Wax and Bruce's Wax. These two brands will give your floor a beautiful high shine!
Carefully follow the instructions on the container. If need be, you may have to apply two coats of wax to get the desired level of shine and finish. Be cautious of over-waxing. If your floor dulls, try buffing instead. Avoid wax buildup under furniture and other light traffic areas by applying wax in these spots every other waxing session. We hope our tips on waxing wood floors serves you well.
If your floor has a polyurethane finish, the best cure for a lackluster shine is to simply have the floor re-finished.
And as always, maintain the shine on your floor with regular vacuuming and by using throw rugs in high traffic areas