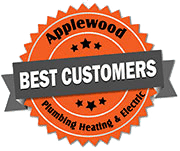 SAVE TIME! SAVE MONEY! Avoid costly, untimely breakdowns and emergency repairs while maximizing equipment efficiency. We'll help you identify potential problems before they become costly repairs with our Service Club Membership.
In an effort to keep plumbing, heating and electrical systems running smoothly in the Denver community, Applewood proudly offers peace of mind with our SERVICE CLUB, a low cost service contract with many benefits to the homeowner.
Benefits of Service Club Membership
Members always receive priority service 7 days a week, 365 days per year via our private non-published Service Club hotline.
Plus, Service Club members receive approximately 15% off our standard rate prices. During our normal 6AM to 10PM service hours, 7 days a week, trip fees are waived for club members. To top it all off, Service Club members receive free annual equipment inspections and periodic maintenance.
In an effort to better serve our customers with furnace repair problems during peak heating season, the following restrictions apply. If your maintenance service is not completed at the time you purchase the membership, the service will be scheduled between January 1st and August 31st. If you prefer to have the maintenance service completed during peak heating season (September 1st and December 31st), availability will be limited and additional charges may apply.
* This agreement does not include any parts or materials except maintenance materials (lubrication/cleaning supplies) necessary to perform the required maintenance. Any repairs required beyond those provided by club membership will be brought to your attention and will only be made after we have your written authorization to proceed with the repair. Our company will maintain a complete record of all maintenance and repairs performed by us and will provide you with a written report upon completion of any work.