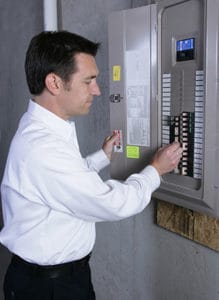 Upgrade Your Denver Area Home Electrical System
When was your last electrical upgrade or inspection? Our electrical upgrade service can bring your home's electrical system up to code – safely! We understand to importance of a safe electrical environment. We offer a wide variety of upgrades including but not limited to voltage increases, more outlets, and new wiring.

Plus, we might even uncover some efficiencies to lower your electric bill with our thorough electrical safety inspections!
Reasons to Upgrade Your Home's Voltage
Whether you're looking to add more outlets to your home, set up outdoor components such as security lighting, or simply make your home more energy efficient, Applewood has the voltage upgrade solution for you. Options include:
Energy efficiency to cut your electric bill

Add additional outlets to a room

Update your current voltage

Add outdoor electrical components like speakers, outlets or security lighting

Update basement and garage wiring

Replace existing wiring throughout home with new, modern options to make it more appealing to potential buyers