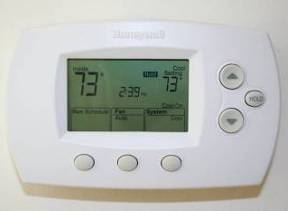 Digital Thermostat Installation for Homes in Boulder, Parker, Brighton, Littleton and the greater Denver metro
If you think you need a new thermostat, chances are that you do. Many Denver homes still use mercury thermostats, which are hazardous to the environment and potentially, your health.
Several digital thermostats are now made to imitate the round, old-fashioned design of the mercury-filled thermostats, but without the mercury! As one of the many money-saving, efficient heating services provided by Applewood, digital thermostat installation is a perfect next step toward more efficient home temperature control.
Save Money On Your Energy Bill
Energy cost is another factor to keep in mind. With heating prices on the rise, several of the thermostats we offer at Applewood are designed to save energy by a specific percentage through the accuracy of pre-programmed settings.
Easy-To-Use Digital Thermostat Installation & Repair
Technology continues to advance, and thermostats are no different. Today's digital thermostats use electronic control to achieve precise temperature performance and optimal comfort. We specialize in installing talking thermostats that actually speak to you and let you know when there is a problem or service needed.
Electronic circuitry, soft-touch push buttons, and large, easy-to-read backlit displays make temperature control effortless. Soft shapes and neutral colors improve aesthetics and allow thermostats to fit any decor.
A non-programmable thermostat provides simple control of your heating and air conditioning system. Set it to the temperature you want and adjust it up or down as desired.
Replace Your Old Thermostat with An Energy-Efficient, Programmable One
A programmable thermostat automatically sets back the temperature in your home based upon a predetermined schedule, while a non-programmable thermostat will stay at the same temperature 24 hours a day. The main advantage of a programmable thermostat is that you no longer need to adjust the setting before leaving the house or before bedtime.
Programmable thermostats like the ones available for installation from Applewood, contribute to overall system performance, maximizing energy savings while providing complete comfort control. Offering set-it-and-forget-it programming, programmable thermostats make energy savings automatic.
Schedule a service or contact us about next steps by using the buttons below.