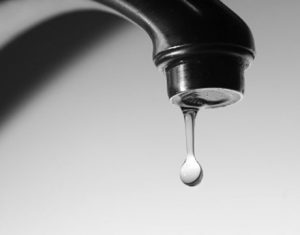 If your home is experiencing low water pressure, or if certain parts of your home are having pressure issues, causes can include leaking pipes, corroded pipework or clogs created by lime deposits.
If you believe there is a leak in one of your pipes (particularly if water spots are visible from within the home), then an inspection by our Denver plumbing service should be undertaken in order to prevent severe damage. Leaking pipes do not always require complete replacement, but in certain circumstances a pipework upgrade may be required. However, stopping the ongoing leak is of great importance.
What Causes Low Water Pressure?
There are multiple causes of low pressure or water volume issues. Initially, it is worth confirming that the valves from the street into your home are in the full open position, especially those near the water meter, and that the indoor main water valve is also completely open.
If the valves are open but the pressure is still low throughout the house, a restriction in the line may be causing the problem. If the problem is restricted to a single faucet, or shower, then the cause can be within the faucet itself and should be inspect for clogs. If the problem continues with the valves open and individual faucets confirmed clean, then a profession plumbing consultation should be arranged.