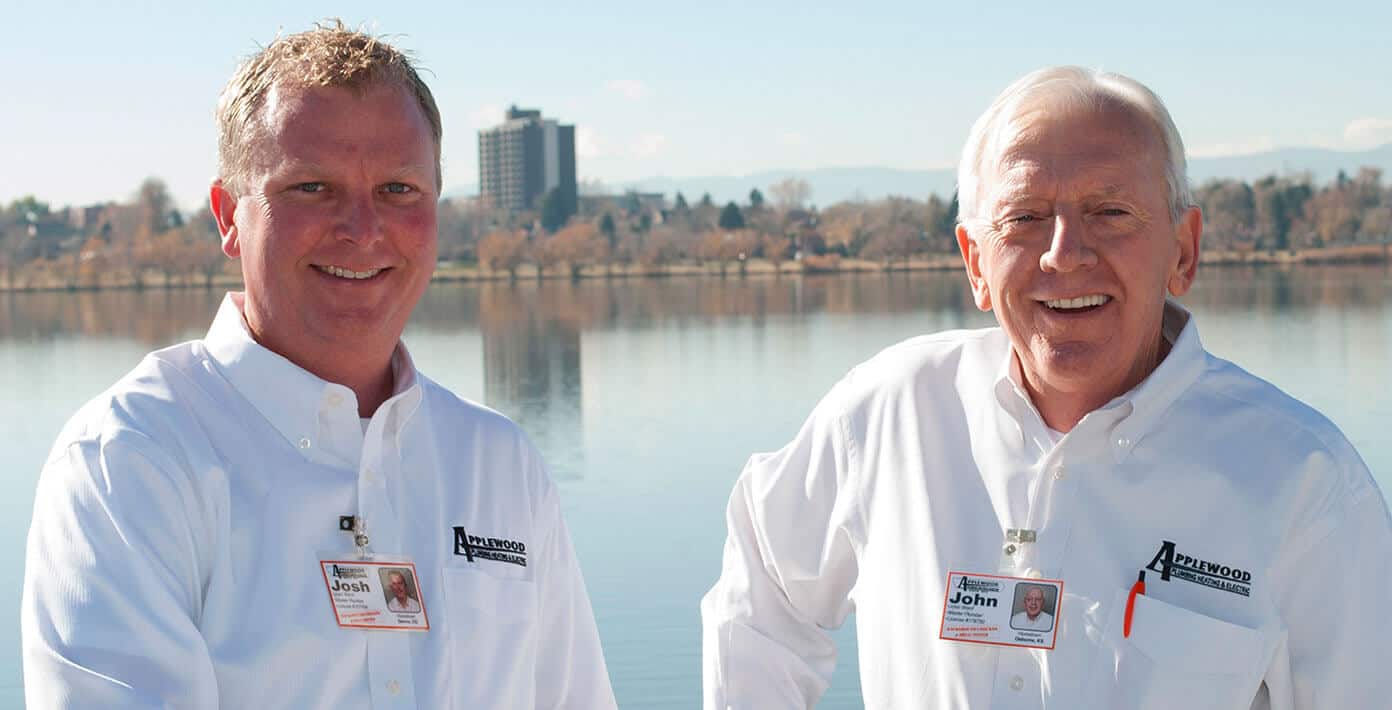 "We Help People"
Since 1973, Applewood has proudly served the communities of Denver and Boulder Colorado. We are one of the few remaining family-owned and operated plumbing, heating and electrical companies.
We've had the pleasure of helping over 300,000 satisfied customers over our career. During that time, we've learned that this work is more than just fixing a broken boiler during a blizzard or repairing a leaky faucet that keeps you up at night. We're in the business of helping people.
Your home is the center of your family. When everything works properly, you feel safe and secure. Our job is to make sure it stays that way. When something does go wrong, we hope you'll trust us in your home to make it right again.
Our Customers are Everything
Top notch customer service has always been our number one goal. Even after 51 years, we're still finding new ways to improve our service and exceed your expectations. When you schedule service with Applewood, we email a picture and bio of your technician before they arrive, so you know exactly who is showing up at your home and what to expect.
60% of our business is from repeat customers. The trust and rapport we've established with them has allowed us to grow into the company we are today. Our 96% on time record speaks for itself and with over 6,000 reviews on Google, we're humbled to have a rating of 4.7 stars.
Always Prepared
Our bright, clean orange trucks are our company mascots. They are a trusted symbol of the professionalism and service you can always expect from us. Those orange trucks are fully stocked with the tools and supplies that our certified technicians need to do the job right. You can expect courtesy, professionalism and efficiency when we work for you. See a 360-degree view of the inside of our one of our many trucks in the Denver area.
There When You Need Us
A big part of helping people is being available when they need us. We know that your home's air conditioner, heating, plumbing and electrical doesn't wait for business hours to break down. That's why we're open and serving the greater metro seven days a week from 6:00am-10:00pm.
By operating longer hours, we alleviate the need for emergency calls and expensive overtime rates. With our rapid response guarantee, you can be sure that we'll show up on-time and ready to do our job.
The Services to Keep Your Home Running
Our primary services are plumbing, drain cleaning, electrical and HVAC (heating and cooling). That means we're your one-stop shop for all home maintenance needs. We can tune your furnace in the fall and your air conditioner in the spring. When your water heater goes out or your electrical panel isn't keeping up with your family's needs, we can make things right.
Join our service club and receive priority service every season. Check out or blog for helpful information on everything from how to avoid frozen pipes in the winter to hacks for how to keep your house clean all year long.
We Love Denver, Boulder & Longmont
It's hard to pick which is more amazing, the people here or the breath-taking scenery we're so fortunate to be surrounded by. The Denver and Boulder areas have been a wonderful place to set our roots and grow our business. We believe in giving back to this community for all it has given us. And we hope our family gets the opportunity to help yours.