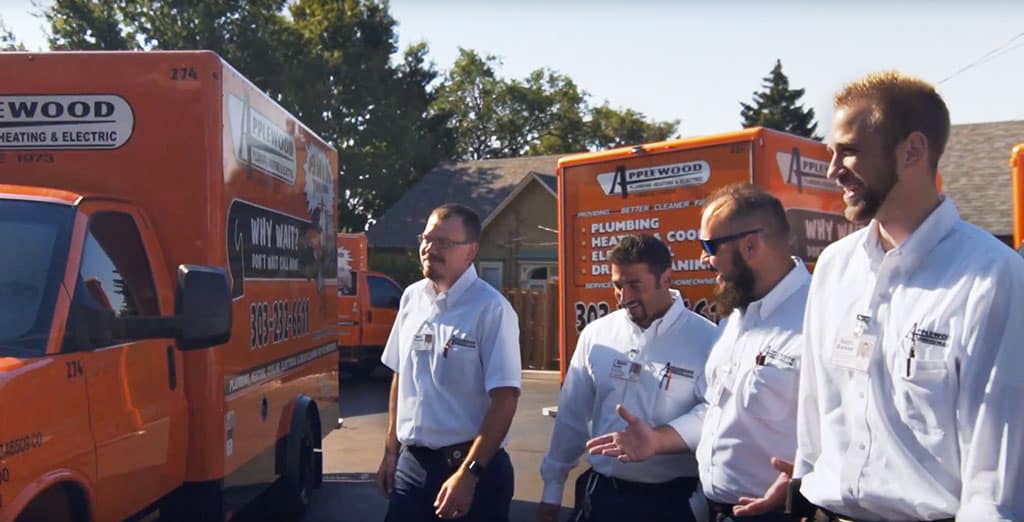 Heating Services
When the weather cools down, you don't have time to worry about your home heating system working properly. If your furnace or boiler breaks down in winter, you really can't wait to repair it. That's why Applewood Plumbing, Heating & Electric specializes in providing fast heating repair and installation services throughout the greater Denver-Boulder metro area.
Applewood is available from 6am to 10pm, 7 days a week with NO overtime charges. No matter how big or small your problem, our experts can fix it right now. You don't even need to know what your problem is! When you call Applewood, an expert arrives with a clean, fully-stocked orange truck. This truck contains all the tools we need to complete whatever repair or installation job you have. Applewood is ready to help you with the following heating services right now:
Which Heating Services Does Applewood Provide?
Why Should I Choose Applewood for Heating Services?
Applewood isn't just the fastest heating repair service you can call from anywhere in the Denver-Boulder metro area–we're also the best. Applewood has over 47 years of experience keeping the Denver-Boulder area warm by providing the best furnace and boiler repair, replacement and maintenance in the state.
Over the course of our 47+ years of operation, Applewood has helped over 300,000 homeowners with an 96% on-time service record. Our customer service, code of ethics, and great work has helped ensure that over 60% of customers who call us continue to come to us with all of their heating, plumbing and electrical concerns. Applewood wins repeat business because our customers know we'll arrive on time, treat them with respect and get the job done right, every time. Next time you have a furnace or boiler problem, we look forward to proving these things to you, too.
Contact us with the forum on the left or give us a call to get heating repair, replacement or maintenance right away. We look forward to winning your repeat business!