Did you know that a typical family of four uses 2,000 gallons of hot water each month? That's a lot of water, and your water heater processes all of it. If your water heater is outdated, damaged, or otherwise inefficient, it'll waste a lot of water. Wasted water means wasted money, so inefficient water heaters aren't just annoying… they're expensive. If you think your water heater isn't working properly, you should repair or replace it right away. That's where we come in.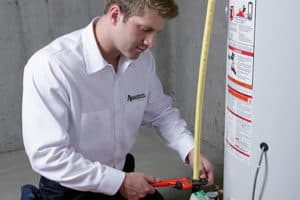 Applewood provides water heater repair and replacement services for the Denver, Boulder, and greater surrounding metro areas. If you see rusty water, hear rumbling or banging sounds coming from your heater's tank, feel like it's taking a long time for your water to heat up, or notice any one of these other potential causes for water heater leaks, then it's time to call the professionals at Applewood about water heater repair or replacement.
Brands of Water Heaters We Service
Bradford White
Rheem
General Electric
AO Smith
… and all the rest of them!
How Does Water Heater Repair or Replacement Work?
When you contact Applewood about your water heater, we will send a licensed plumber or certified technician to your home right away. This expert examines your heater and gives you a detailed and honest explanation of the problem and how they can fix it. We won't perform any water heater repair or replacement work until we've agreed on a plan for fixing or repairing it in the manner that's best for you and your family. Once we've agreed on a course of action, Applewood's expert will repair or install your water heater on your schedule. We can explain everything we're doing, why we're doing it, and why it's the best course of action for your particular water heater concern. Our professionals will never compromise your comfort or the efficiency of your equipment for the sake of a quick fix. We want you to be so happy with your experience that you'll keep choosing Applewood for all of your plumbing concerns. We'll convince you to do that with our transparency, high-quality work, and peerless customer service. ‌
Does Applewood Repair and Install Tankless Water Heaters?
Yes! Ask our plumbing specialists about the benefits of switching to a tankless water heater. Tankless water heaters have a higher initial installation fee, but they use up to 50% less energy than conventional tanks. Installing a tankless water heater could save a typical family hundreds of dollars a year on their water bills. Applewood's experts can install, repair, and service any tankless water heater in the greater Denver, Boulder metro area. ‌
Water Heater Help Whenever Denver and Boulder Need It
The next time you notice a water heater problem, call or get in touch with Applewood right away. We're open from 6am to 10pm, 7 days a week with no overtime charges, and our pros are ready to help solve your problem as soon as you need us. Check out our online scheduling service below or give us a call to schedule your water heater repair or replacement appointment right now! We look forward to winning your repeat business. ‌
Other Plumbing Services