Water Heater Repair & Replacement
Did you know that a typical family of four uses 2,000 gallons of hot water each month? That's a lot of water. In fact, it's an amount that can send a flood of dollars out of your wallet if you're unfortunately relying on an outdated water heater.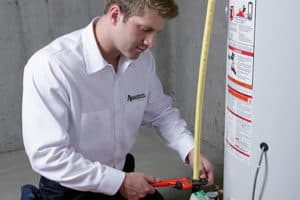 Applewood provides repair and replacement services for water heaters in Denver, Boulder, as well as cities and towns in the surrounding metro. If you're noticing rusty water, rumbling or banging sounds coming from your heater's tank, an increasing amount of time taken for your water to heat up, or one of these other potential causes for water heater leaks – it's likely time to call the professionals about repair or replacement.
Brands of Water Heaters We Service
Bradford White
Rheem
General Electric
AO Smith
… and all the rest of them!
When you contact us about examining your water heater, a licensed plumber or certified technician will be sent to your home promptly to examine your heater and give you detailed explanations as to the best course of action for you and your family. Once a course of action has been decided on, our technicians will install your new water heater in a timely manner, following a schedule that is convenient for you. When you work with Applewood, you can rest assured that we would never compromise your comfort or the efficiency of your equipment.
Ask one of our plumbing specialists about the benefits of switching to a tankless water heater. Tankless water heaters have a higher initial installation fee but use up to 50% less energy than those with tanks and, in turn, save a typical family hundreds of dollars a year on their water bills.
Other Plumbing Services