August 16, 2017
5 Benefits of being an Applewood Gold Service Club member
Most people panic when things go wrong with their home's vital heating, cooling, plumbing and electrical systems. One way to avoid the panic AND to keep your house in perfect running order is to have a maintenance agreement with Applewood Plumbing Heating & Electric! Our maintenance members are part of our Gold Service Club. Club members have peace of mind knowing that we will do everything we can to keep their home running as smooth as possible, PLUS club members receive free annual maintenance on one of their home's systems.
Here are five reasons why you should have a maintenance agreement in place for your home: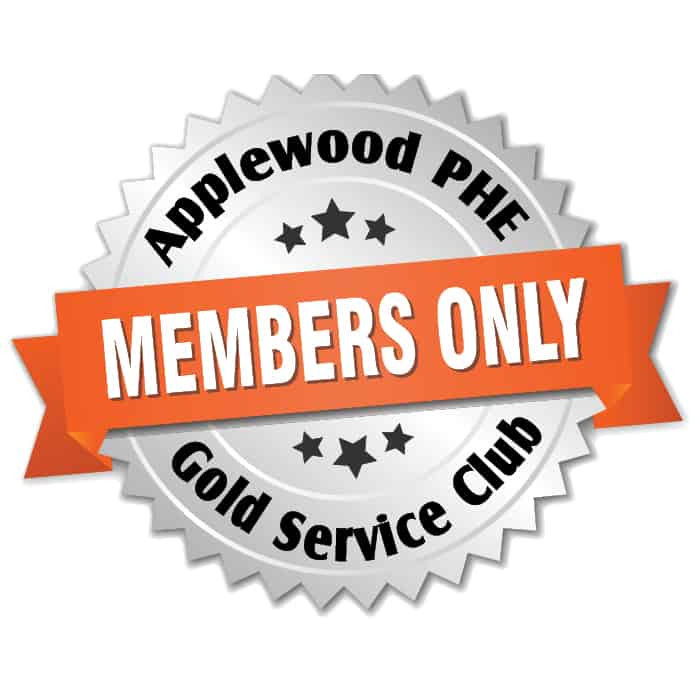 1. Lower cost over time. When you maintain your equipment, the repair cost tends to be lower, and failure happens less frequently. Your equipment operates more efficiently when well maintained, saving money on operating costs like your utility bills. This may also reduce the pressure on emergency funds for sudden breakdowns and repair.
2. Peace of mind. Besides saving you money, regular maintenance will reduce the chance of you getting stuck in the heat with no air conditioning or taking cold showers for days while your water heater is being replaced. A maintenance agreement will also lengthen the lifespan of the components in your equipment. This postpones replacement and allows you to maximize the use of your equipment.
3. Keeping Your Warranty. Some manufacturers won't replace a part if equipment has not been maintained by a professional. Rather than having to remember to book and keep up with maintenance yourself, having an agreement in place ensures that you keep the added protection of a warranty should your parts fail.
4. Relationship. You can count on Applewood to keep records of service and an ongoing history rather than relying on one-off servicing by a stranger. If there are any ongoing issues, a maintenance agreement will provide you with better follow up on work done. The technicians who take care of your home will also become familiar with how everything works and will be better able to make suggestions and pick up on issues early on.
5. Safety. You might be tempted to do maintenance on your own. However, a professional will know the safest way to carry out the work. Protect yourself and your family by having a professional do regular, planned maintenance on your equipment.
PLUS Applewood service club members receive:
Up to 15% off standard rates for all repairs and service.
Service call charges are waived during regular operating hours.
24 hour priority service for club members, 7 days a week.
Private, non-published service hotline for guaranteed 24 hour service.
Special, exclusive, offers for club members throughout the year.
Choice of one free maintenance service yearly for your home's plumbing, heating, cooling or electrical system.
Get your home's maintenance in order! To find out more about Applewood's Gold Service Club, give us a call today: 303-328-3060.