November 4, 2015
Applewood Awards Giveaway to Literacy Coalition of Colorado
The Literacy Coalition of Colorado promotes and fosters adult literacy in all forms with ongoing professional development opportunities, volunteer training and referrals, and other projects to meet the changing needs of adult literacy agencies in Colorado. "We are dedicated to supporting programs whose mission is adult education and the opportunities these programs create so businesses can hire, people can work and families can thrive," said Dorothea Steinke, chairperson, Literacy Coalition of Colorado.
"Applewood is proud to partner with this organization," said John Ward, Applewood Plumbing Heating & Electric president. "Their work is admirable and we are excited to be able to help them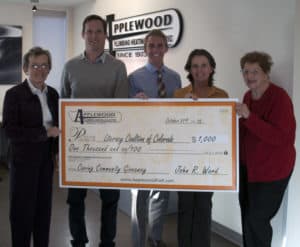 expand their efforts."
In Colorado today, there are over 585,000 people aged 16+ with no high school diploma. That number will most likely grow dramatically as the high school dropout rate in the state is 32% and a dismal 54% in the city of Denver. Everyone responsible for improving productivity among their workforce is faced with the problem of training people who have difficulty reading, writing, understanding instructions, training, and interaction with customers and co-workers. The goal of Literacy Coalition of Colorado is to train and place qualified tutors and teachers within organizations that are implementing educational training programs.
Since its inception in 1980, Literacy Coalition of Colorado has provided training to numerous teachers, tutors and volunteers. Currently, over 200 volunteers offer tutoring and additional instruction in reading, writing, math, science, social studies, language and life skills. The coalition serves up to 10,000 learners per year.
The $1,000 will allow the organization to provide additional training to the tutors, teachers and volunteers at upcoming training workshops in February and April," said Dorothea.
Over the past ten years, Applewood has given more than $100,000 in giveaways to charities and nonprofits in the Denver area.