February 20, 2015
Applewood Awards Giveaway to Young Engineer's Association
Applewood Plumbing Heating & Electric has chosen Young Engineer's Association, a local nonprofit, as the February winner of the $1,000 Caring Community Giveaway.
"I think it's great that these children are so interested in science, technology, engineering and mathematics; we're excited to be able to help them grow their interests," said John Ward, president of Applewood Plumbing Heating & Electric.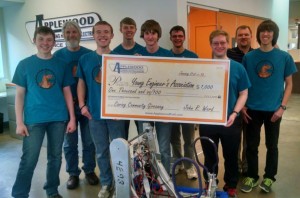 Young Engineer's Association was created for middle and high school students who display interest in science and engineering. Their goal is to further students' interest in the science, technology, engineering and mathematics (STEM) fields by giving them an exciting, hands-on engineering experience that cannot be taught in a classroom. The youth compete in national robotics competitions and host classes and other programs taught by mentors in the workforce.  Through these programs, kids work together as a team to design, build and program robots to perform specific tasks.  In addition to being exposed to and learning technical skills that will provide them a foundation for advanced STEM based training, these programs teach kids how to work as a cohesive team, and impart to them the values and ethics required to successfully develop and deploy complex technology based solutions. "We also strive to teach children the business and financial side of building a robot," said Ashley Walker, a Senior Board Member for the Young Engineer's Association.
TheYoung Engineer's Association is committed to providing an inclusive and welcoming learning environment for all students, mentors and volunteers who participate in the organization. The 20 students and 10 mentors participating in this year's competition are preparing for the 1st Robotics Competition which will be held in late March.
"The kids are elated that they won the giveaway," said Ashley. Applewood's donation will help the Young Engineer's Association purchase equipment to continue building their robot.