January 23, 2017
Applewood Plumbing awards $1,000 giveaway to ACCESS Housing
ACCESS Housing is the winner of the $1,000 Caring Community Giveaway from Applewood Plumbing Heating & Electric.
ACCESS Housing helps families facing homelessness achieve self-sufficiency and permanent housing through a continuum of care in collaboration with community partners. Founded in 1983 by a group of Adams Coun
ty residents, the goal at ACCESS Housing is to prevent homelessness while ensuring the families they serve do not experience homelessness again. To achieve this goal ACCESS Housing provides emergency shelter, homeless prevention, transitional housing, permanent housing and other family support services to families with children.
"Many families rely on the services provided by ACCESS Housing, so we are grateful to be able to support their efforts in helping families in our community," said John Ward, president of Applewood Plumbing Heating & Electric.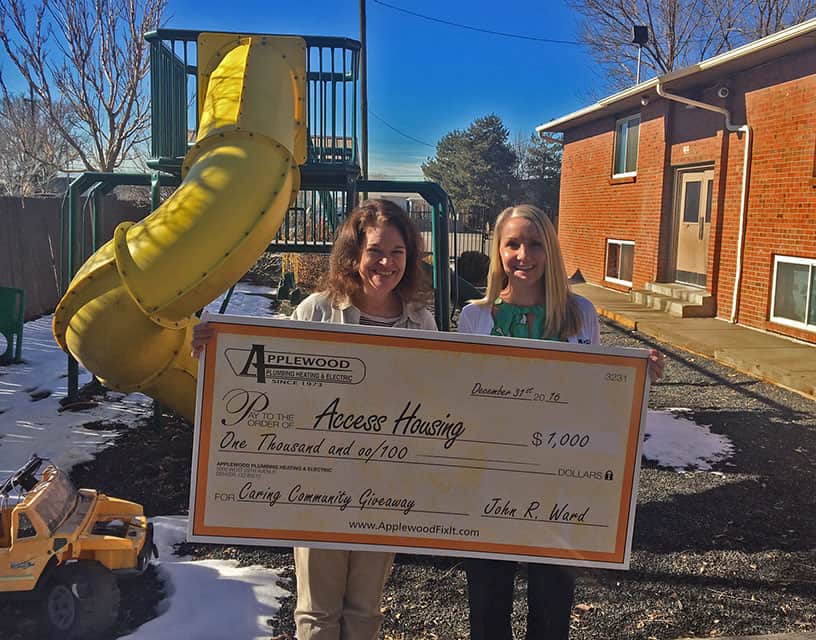 The programs offered at ACCESS Housing were designed to respond to the basic human need for shelter, food and clothing. Their comprehensive, holistic and culturally responsive approach empowers families to regain control of their lives. Services offered at ACCESS Housing include the Family Shelter Program which provides short-term shelter for up to 90 days for families with children in on-site private apartment units, Home Again Family Support which supports the transition of homeless families into permanent housing and permanent housing at one of the 17 units owned by ACCESS Housing that they rent to low-income families. Program services also include case management, food, clothing, household furnishings and transportation assistance.
"We are so grateful to Applewood. The $1,000 will help provide many services to those families facing homelessness in the metropolitan area, said Angela Bornemann, Executive Director, ACCESS Housing.
Each year ACCESS Housing provides their support services to over 700 families comprised of over 2,500 adults and children. For more information about ACCESS Housing visit www.acchouse.org.
Applewood Plumbing Heating & Electric has served the Denver/Boulder Metro area for more than 40 years and is proud to have been named to the Denver Post's Lists of Top Workplaces and the Editor's Choice for Best Customer Service in 5280 Magazine's Top of the Town issue. They are honored to be a past winner of the Better Business Bureau's Torch Award for Marketplace Trust in the Large Business category and a recipient of the City of Golden Rotary Ethics in Business Award.
For more information or to nominate a local nonprofit for the "Caring Community Giveaway", go to www.ApplewoodFixIt.com.