April 27, 2018
Applewood Plumbing named one of Colorado's Top Workplaces
Applewood Plumbing Heating & Electric has been named one of Colorado's Top Workplaces for 2018 by the Denver Post.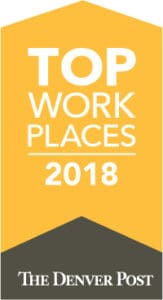 More than 1,000 organizations participated in the survey and 150 companies, including Applewood, have been recognized as one of Colorado's Top Workplaces. Applewood was ranked 23rd in the small company category, making this the sixth time they made the list of Top Workplaces.
"The strength of our company is in our employees," said John Ward, Applewood Plumbing Heating & Electric's president.  "This award reflects all of the hard work and dedication they bring to a job we work diligently at every day.  They're the ones who truly make Applewood Plumbing the best place to work."
Employees participated in a workplace survey evaluating the company's environment in seven areas including alignment, effectiveness, connection, management, employee engagement, leadership and the basics.
Applewood Plumbing will be listed in a special edition of The Denver Post and online.  They were first named one of Colordao's Top Workplaces in 2012 and have earned the title five additional times.
Visit Applewood Plumbing Heating & Electric's Top Workplaces for 2018 listing:  https://topworkplaces.com/publication/denverpost/applewood-plumbing-h/