May 23, 2018
Applewood Plumbing Sponsors Jodi's Race for 9th Year
Applewood Plumbing Heating & Electric  is an official sponsor of Jodi's Race for Awarenessbenefitting the Colorado Ovarian Cancer Alliance. This is Applewood's 9th year supporting the race scheduled on June 9 at Denver City Park.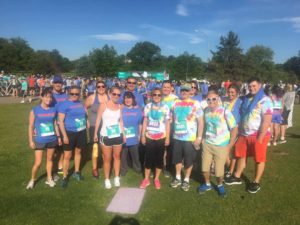 Applewood will also enter a team as part of the event with several employees and family members who will walk together to fight ovarian cancer. The event has become an annual activity embraced by the company to come together for a common cause.
"Many of our employees have been affected by cancer in one way or another," said John Ward, president of Applewood Plumbing Heating & Electric. "As members of the Denver community, we feel it's important for us to support programs and organizations like this that help those struggling with these horrible diseases."
Tyler Dean, an Applewood technician, nominated the Colorado Ovarian Cancer Alliance for a Caring Community Giveaway of $1000 in 2017. Shortly after, COCA discovered that his mother, Sue Abbott, was one of their survivors. Sue has had a team at Jodi's Race for several years and also makes handmade port pillows that are included in every Comfort Kit sent to women newly diagnosed with ovarian cancer.
"We are so grateful that Applewood shows support not only to our cause but supports Tyler and his mom through their sponsorship of the race," said Jeanene Smith, Jodi's Race director for COCA. "They treat their employees well, and are civic minded, making such a great difference through their various sponsorships and other efforts in the larger community. We are deeply proud to have them as a sponsor for Jodi's Race."
The 5K and one-mile run/walk helps raise awareness about the signs and symptoms of ovarian cancer and provides support to women in Colorado who are affected by ovarian cancer. Last year, Jodi's race had nearly 3,000 participants and raised more than $140,000.
The race is named for Jodi Brammeier, a Colorado native who passed away after receiving a late diagnosis of ovarian cancer in 2010.  Brammeier's diagnosis came late because she was unaware of the vague symptoms associated with the disease.  Before her death, she vowed to raise awareness of the risk factors and symptoms of ovarian cancer and, in the long run, save lives.