September 26, 2022
Avoid Home Repairs and Disasters this Halloween *Infographic*
Fall is the perfect time to check your home for maintenance and repair issues. Before the cold Colorado chill starts to seep in make sure your home is sound and that the only halloween scares around you are from trick or treaters.
Here are a three choice Halloween home safety tips from the Applewood family to yours: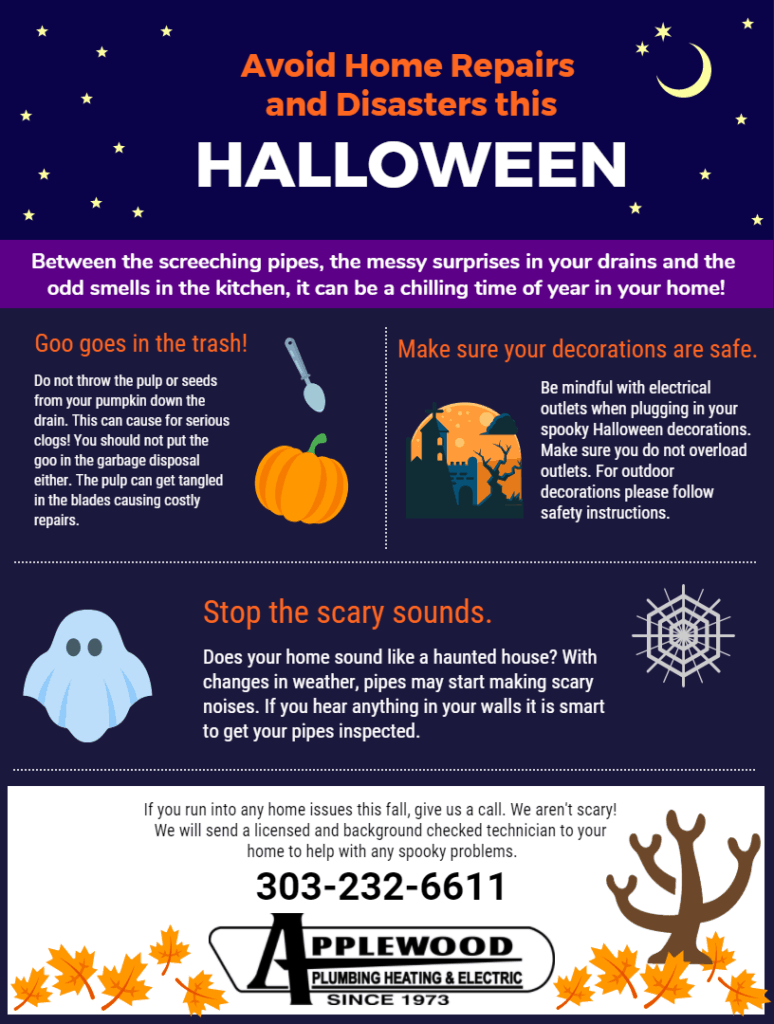 Don't wash those pumpkin guts down the drain. Sticky pulp and hard seeds can clog your drain and gum up your garbage disposal. Avoid sink problems by using your disposal and drain properly and only flushing small, safe food scraps.
Keep your Halloween decorations safe. We love to see spooky displays across the neighborhoods we serve but we hate to see overloaded outlets and unsafe cords running all over the yard. They're a fire hazard waiting to happen. If you're going to have lights and sound in your yard, make sure you have enough outdoor GFCI outlets to accommodate them. Don't Frankenstein your electrical. If you need new outlets or wiring, call Applewood today!
Stop your pipes from shrieking and banging. Clogs, air bubbles and water pressure issues can turn your home into the Paris opera house with phantom noises whenever you use your water. Don't let plumbing issues haunt you, call the pros at Applewood to get your pipes checked, repaired or replaced.
Fall Safety and Maintenance for Denver and Boulder Area Homes
Applewood has been serving our local communities for decades and we've seen a lot of scary stuff – on Halloween and all year round. When a plumbing, heating or electrical problem crosses your path, call out experts to fix the problem quickly, safely, and economically. Check out our checklist for other fall home safety tips and call with questions any time.