February 4, 2014
Community Giveaway Helps Local Charity Bring Recreational Activities to Kids
Local is the name of the game, as one local business helps a local nonprofit in its efforts to make local recreational activities accessible to all Colorado children.  Applewood Plumbing Heating & Electric selected Children's Hospital Colorado Sports Program as its latest $1000 "Caring Community Giveaway" winner.
"We're proud to contribute to a local program that has been serving the community even longer than we have," said John Ward, president of Applewood. The Colorado Sports Program is dedicated to providing kids with physical disabilities the opportunity to participate in outdoor recreational activities.  "Every child deserves to be able to experience the outdoors and we're happy we can help make that happen," he said.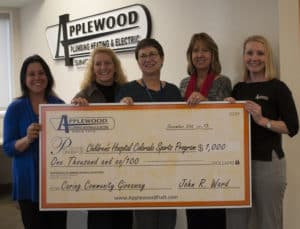 The program was the first of its kind when several orthopedic staff members of Children's Hospital teamed with the Veteran's Hospital to find a way to bring the sport of skiing to kids with amputations.
The program has now expanded from skiing and snowboarding to cover additional outdoor recreational activities including a new adaptive biking program, which will help kids maintain physical activity in the summer. The program strives to accommodate any child impaired by almost any physical disability. "The program still reaches amputees as well children with cerebral palsy, spina bifida and head injuries," said Wendy Larsen, director of the Hospital Sports Program.  She believes the growth can be attributed to the nearly 100 active volunteers that dedicate their time and expertise to the program.  The large number of returning volunteers gives the program the opportunity to match each participant with their own instructor, eventually creating a special bond.
"We have witnessed kids who have trouble walking on their own at school become physically equal to their peers when participating in activities through our program," Larsen said.
Aside from groundbreaking specialty equipment and instructional training, the Hospital Sports Program's greatest achievement, perhaps, can be measured by the joy it has brought to children's lives. "Helping participants go from start to finish in any activity, whether it be getting to the bottom of the mountain or catching their first fish, the program instills a confidence that stays with its participants for the rest of their life," she said. The program's successful experience leads to lifelong participation in leisure activities with friends and families.
The Hospital Sports Program works each year to raise the funds necessary to keep the program running, successfully providing each child with specifically adapted equipment and transportation to and from the mountains. Larsen is hopeful that the $1,000 will put the program over its operating costs and provide the opportunity to provide scholarships to help families pay additional fees. The program is also looking to invest in a ski bike, which will help reach out to children with a wider range of physical disabilities.