October 24, 2013
Denver's Applewood Plumbing gives $1,000 to A Precious Child
More than 1,000 individuals affected by the recent Colorado floods have sought the help of a local nonprofit, and Applewood Plumbing Heating & Electric chipped in via the monthly Caring Community Giveaway.
September's Caring Community Giveaway recipient, A Precious Child, will use the $1,000 award to support families affected by the floods in Boulder and surrounding regions.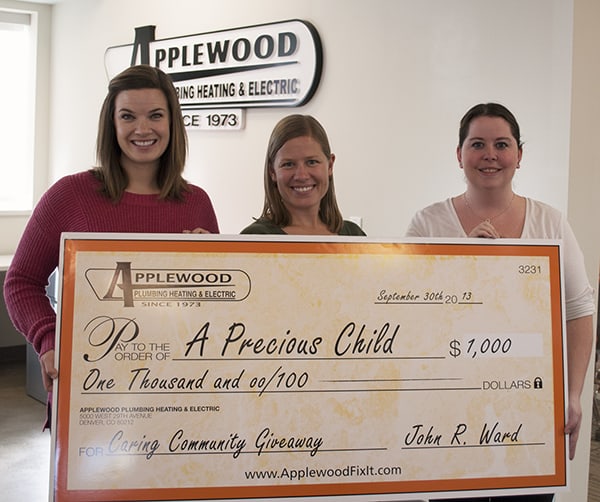 "People with flooded homes are still trying to get back on their feet. We're happy to contribute to A Precious Child so that the basic needs of flood-affected families can be met," said John Ward, Applewood Plumbing Heating & Electric president.
A Precious Child provides a variety of services that focus primarily on supporting disadvantaged children in the Denver area. The efforts of more than 4,000 A Precious Child volunteers have forged strong connections with local schools, churches and social service institutions to reach as many people as possible.
"There is always a need for gently used children's clothing," said Britta Robinson, A Precious Child associate director. "You'd be surprised at how excited kids get for new socks. Many of them are used to wearing secondhand items."
In 2012, A Precious Child distributed more than $1.8 million of basic essentials to more than 20,000 children and adults in need. More than 64,000 individuals have been served since the organization was founded in 2008.
"Thanks to our volunteers we've grown exponentially since 2008. Last year was our best yet and we expect even better results in 2013," said Robinson.